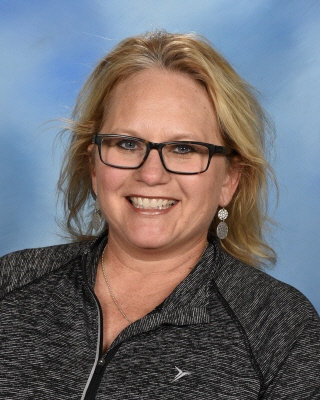 With the school year finish line on the horizon, freshmen aren't the only ones on campus looking to wrap up their rookie year on MRHS soil. Julie Olson, who's gotten to walk into a classroom of middle schoolers for the past 23 years at Desert Sky and Hillcrest, is in a fresh school environment with older students and a larger pool to impact.
With Olson being shoulder deep in the middle school teaching community, it was a difficult and brave jump to the higher shelf of high school.
"I always wanted to teach high school and try something new before I retire. I heard there might be an opportunity [at Mountain Ridge] so I thought I would go for it!" Olson said.
Beginning here on campus gave Olson similar nerves to those of the freshmen. Having to leave behind friends and coworkers to make the leap was scary and seemed to be almost all too much. With encouragement from her husband, Olson wrote what would be her first resume in the past 23 years and scored an interview. Olson was then hired to teach P.E. like her middle school days as well as health.
"I taught health a while back and happy to be back teaching that again. I really like being able to spend time in the classroom!" Olson said.
Olson's first impression of Mountain Ridge was nothing short of great. She felt very welcomed and cared for by the faculty. Olson actually knew quite a few familiar faces when she took the job. Her husband used to teach on campus and her boys, Garrett and Tanner, are students here. On top of her family relations, coming from Hillcrest, some of her past students fed into Ridge. She gets to see how they've grown up and matured on their new journey as a Mountain Lion. Olson's connections have really helped ease the bridge between the levels of schooling.
It is apparent that Olson made the right choice by accepting her position upon the staff. Weirdly enough she doesn't miss the middle school level as much as she had believed she would. Her eyes are simply set on the new place she gets to shine in. With the second semester and downhill slide to summer, Olson feels confident and set in her teaching. She enjoys her schedule and all the challenges it brings. She only hopes to keep learning and continue to try and make a positive impact on as many students as she can. Though her students are vastly different from her previous years, she is fully set on her same values and morals of teaching and hopes to be great on campus.
"The students are more mature at the high school level. Academically they are a little more advanced but they are older than middle school students. The biggest difference for me is that the students are a lot taller at the high school level. I notice it more because I am vertically challenged," Olson stated.
Olson would surprisingly pick high school level over middle school in a heartbeat. With the ability to write a book about the nonsense and immaturity she witnessed for over two decades, she appreciates the professionalism, drive, and maturity of those she interacts with daily. With new people though, comes new challenges which she believes keep her on her toes and sharpens her ability to teach.
"I love being challenged daily and feel like I am a better teacher this year. I kind of felt like I was on autopilot for years. High school is just a different experience and it is so fun!" Olson said.
Olson really hopes to spread kindness as it is contagious and she wants to be a friendly face on campus. She has already started to make her mark on here as she helps co-run FCA (Fellowship of christian Athletes). One goal she is ultimately passionate about is growing that community and connecting with all kinds of students through the program.
Olson admits she would not feel as comfortable if it were not for the great coworkers she got the opportunity to operate with. She believes their help aligned her successes on the year so far. Their guidance was essential and a great gift to be given on her new teaching branch.
Olson hopes to remain with high schoolers and Mountain Ridge until the day she retires, which she threw in wasn't too far down the line. Olson's leap from middle to high school should be an inspiration and simply a punch to the idea that it is too late to try something new. Challenges are everywhere and venturing out of one's comfort zone is where success is reaped. Olson is proof and can attest to that. It is never too late to try new things.