FAFSA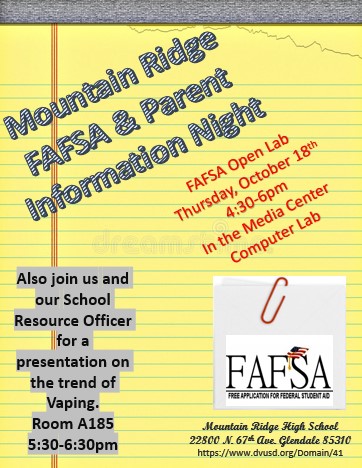 Who is this for: Senior high school students.
What is this about: FAFSA stands for Free Application of Federal Student Aid. Senior students are encouraged to complete this course. Upon completing the FAFSA and their college application(s), students and parents should receive a financial aid package for each college application they filled out indicating what grants, scholarships, and loans are available for that student.
When and where does FAFSA take place: FAFSA will be having a Open Lab on October 18th between 4:30-6:00 pm in the Media Center Computer Lab.
Why should seniors take this: Senior students and their parents will know what federal student aid is available to that student, there may be also possible financial aid from the student's state, college, and or private scholarship providers.
About the Contributor
Kelsey Nahodil, Co-Editor in Chief
Kelsey is a senior, yet she's also our member of greatest seniority, with this being her fourth year working for The Ridge Review; she's our Co-Editor in Chief. She enjoys coaching volleyball,...