Top Five Things to Look Forward to This Fall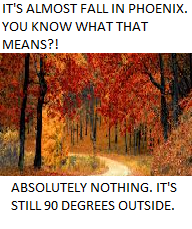 Weather
Finally, we get to wake up to some clouds and cold weather. We're no longer going to get burned every time we step outside!!!
Clothes
Jacket season is officially here. Sweaters, pants, scarves- all things we don't really need in Arizona, but one can dream.
Thanksgiving Break
No school, more sleep, and lots of food?! I don't see a downside here.
Movies
A Star is Born- October 5, 2018
First Man- October 12, 2018
The Hate U Give- October 19, 2018
Fantastic Beasts: The Crimes of Grindelwald- November 16, 2018
Creed II- November 21, 2018
Food
PUMPKIN FLAVORED EVERYTHING.
Check out our previous article- "Top Five Things to Look Forward to This Spring" (https://mrhsridgereview.org/627/entertainment/top-five-things-to-look-forward-to-this-spring/).