Five Podcasts For People Who Don't Listen to Podcasts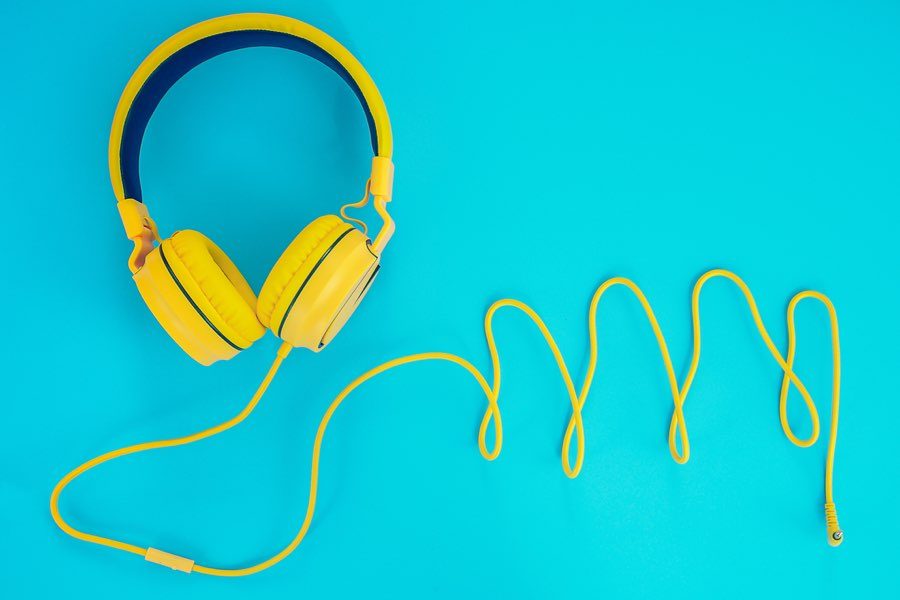 Anyone that knows me knows that I am a huge fan of podcasts. For those of you who aren't sure what a podcast is, in its most basic form, podcasts are radio on demand. They can be audio-based talk shows, fiction story-telling device, and news stories. From sports, to video games, to politics, to that one specific reality tv show that you love but no one else cares about, if you have an interest in literally anything, there's a podcast for you. However, with that vast array of choices, it can be hard to find which ones are for you. Personally, I really enjoy three kinds of podcasts- comedy advice, audio drama (fiction), and interview shows- but I've figured that out after years of trying hundreds. To get you started, here are 5 podcasts to give you a taste of what they have to offer.
Disclaimer: There are THOUSANDS of incredible podcasts that I might not be aware of, so this is by no means anywhere close to a complete list, they are just a few to get you started. Have a podcast that you like that I didn't mention? Please feel free to share! I'm always looking for something new to listen to.
Welcome To Night Vale
Listen, I know that this one is on every list and article about podcasts, but this was my first podcast years and years ago and it's what got me hooked. WTNV is a fiction podcast set up like a radio show about the town of Night Vale, where the strange is normal and the normal is strange. It's narrated by the cat-and-scientist loving radio host, Cecil, and features a wide cast of characters in town. It's creepy and comforting and features a new song every episode as "The Weather".  There is a pretty extensive backlog of episodes, but episodes are only about 20 minutes, so it's perfect for bingeing this fall season.
My Brother, My Brother, and Me
This podcast, on its most basic level, is a comedy advice show done by three brothers, the McElroy's, where they answer questions sent in by listeners and those asked on Yahoo Answers. On a deeper level, it is hilarious and compassionate and the McElroy's have become major players on the podcast scene, sometimes featuring "Guestperts" like Lin Manuel-Miranda (creator of the hit musical Hamilton) and Jimmy Buffett (your parent's favorite island time singer). This one also has a major backlog of episodes, but you can start on any one of them, no prior knowledge needed.
Getting Curious with Jonathan Van Ness
Every week, Jonathan Van Ness, recently famous for the hit reboot of Queer Eye, explores something new that he's curious about by interviewing experts in that field. He's interviewed some pretty major people, including singer/songwriter Florence Welch of Florence and the Machine, NASCAR driver Julia Landauer, and American actress, director, and entrepreneur Reese Witherspoon. There are also tons and tons of professors, doctors, and industry leaders answering questions about whatever topic Van Ness is curious about. Its funny, smart, and has answers for many of the topics you never knew you didn't know about.
The Polygon Show
From the gaming news website Polygon, The Polygon Show features four women discussing what's new in games, talking about their own experiences and favorites, and sharing what game they're playing this week. Simone de Rochefort, Ashley Oh, Chelsea Stark, and Allegra Frank are endlessly smart and funny journalists and this weekly show is a spot of joy and honest passion in my week. It is really accessible for those who aren't super informed about video games, while still being a great choice for those who are.
Wolf 359
A sci-fi radio drama featuring the crew members on a science vessel, the U.S.S Hephaestus, 7.8 light years from Earth. Its part space adventure, part drama, part sitcom, creating the perfect show that keeps you laughing and gasping throughout the whole series. If you're a fan of Star Trek or Battlestar Galactica or any space-based episodic show with a hugely loveable and goofy cast of characters, you will fall in love with this podcast like I have. The writing is incredible and the sound design makes you feel like you're right next to the characters as they fight sentient plant monsters and the overbearing corporation that is probably more dangerous than any space creature could be. Wolf-359 is a complete story, with its final episode having been released earlier this year, making it perfect for bingeing.