MacAlpine's Diner & Soda Fountain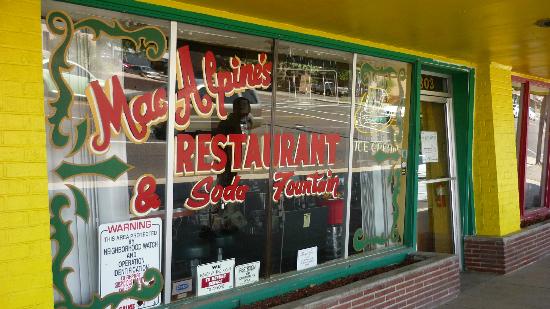 MacAlpine's is a family owned diner that is located on 2303 N. 7th St, Phoenix, AZ 85006 with friendly workers and a vintage feel to the walls. MacAlpine's is a great place to take your little kids. You might spend a little too much when your kids see the candy section in the diner, but your kids will definitely enjoy this cool and unique place. Not only will kids enjoy MacAlpine's but anyone who goes is sure to have a good time especially with all the delicious sweets.
MacAlpine's has some very delicious meals. They sell everything from sandwiches, salads, burgers, and more and their food is definitely one of the best things about them. But MacAlpine's doesn't just sell meals, they have an abundance of different ice cream sundaes and different types of ice cream sodas. They are known for their famous ice cream sodas, which come in a bunch of different flavors with almost any type of soda like Coke, Sprite, or Dr. Pepper. Their ice cream sodas might be most people's favorite but giving these ice cream sundaes such fun names is a really cool twist. Some of these names include The Brady Bunch, Velvet Elvis, and Ghostbusters. Their prices are fair because of the large portions of food you are given.
Other than just the food, walking into MacAlpine's Diner makes you feel like you are walking back in time. There are vintage objects all around the walls and on the shelves at the diner which makes for a very interesting visit. There are old signs, cameras, and a lot of fragile pieces decorating the walls. It also has a bunch of different antique items. They have a very friendly environment so that every time you walk into the diner you are greeted by the workers and feel like family. Overall MacAlpine's has a great antique feel to it and is a family friendly diner that everyone will enjoy.