Top 5 Fiction Podcasts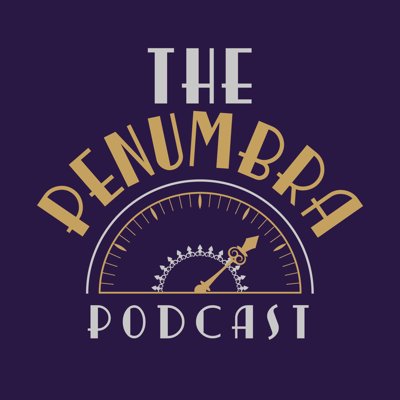 A few months ago, I wrote a staff pick featuring 5 Podcasts for People Who Don't Listen to Podcasts, which featured a few podcasts over a wide variety of genres to help introduce what radio on demand has to offer. This week, I wanted to shine a light on a few of my favorite shows in one of my favorite categories: Scripted fiction. All of these shows can be found on Apple podcasts, the Google Play store, or on any number of podcast apps available, including Spotify.
1. The Penumbra Podcast
The Penumbra Podcast began as a way for creators Sophie Kaner and Kevin Vibert to write and produce several stories of varying genres all in one place. Since the beginning, Kaner and Vibert have found their stride with two main serial stories: "Juno Steel" and "The Second Citadel". The "Juno Steel" series features the experiences and narration of the private eye of the future, Juno Steel. Fighting crime and his own demons on Mars make Juno just as broody as the classic 50's detectives of old timey movies and radio shows. Still the show manages to be goofy and captivating, immediately pulling the listener in with complex characters and mysteries abound. "The Second Citadel" series takes the well-known fantasy genre and turns it on its head with tales of knights, monsters, and magic told through a wide cast of characters. What really makes this show special is the diversity of the characters. It's rare that I find a story that so naturally features such an inclusive array of character, each with their chance to shine and grow. The sound design on it is immersive and fresh and the show balances comedy and serious discussions of identity, sexuality, disability, and empathy, building a really wonderful story. Kaner and Vibert are also well known for their highlighting of LGBT+ actors, characters, and stories that sets a precedent for all other shows to follow. Both storylines have just completed their second seasons, making this the perfect time to binge and catch up.
2. The Bright Sessions
Ever wondered how people with superhuman abilities manage to keep themselves together? The Bright Sessions answers that question with audio files from Dr. Bright's therapy sessions with her patients, who just so happen to have extraordinary abilities. Featuring sessions with a young woman who travels through time caused by panic attacks, a teenage boy who feels the emotions of others, and a young woman who hears the thoughts of those around her, but is convinced she is hearing angels, the listener gets to know Dr. Bright's patients, as well as the therapist herself, in a story just as wonderful and complex as its characters. One of the shining features of this show is the writing and characterization. Lauren Shippen, creator and writer of the show, as well as voice actor of time traveling Samantha Barnes, crafts a heartwarming and emotional work that masterfully represents a diverse cast of character who change and grow as the show does too. The Bright Sessions also has one of the best representations of a teenager I have ever hears, both in Shippen's writing and Briggon Snow's acting. The show wrapped its final episode of the first series in 2018, but has been releasing monthly bonus episodes and has both a three book deal and a TV show in production.
3. Arden
Whether it's Netflix's Ted Bundy Tapes, the latest episode of Making a Murderer, or likely the only podcast you've heard of, Serial, true crime has been all the rage in recent years. However for some of us, true crime can be a little too much, despite its captivating and binge-worthy nature. That is where Arden stepped in for me. A fictional story structured like the hundreds of true crime podcasts out there was the perfect combination for someone who doesn't want to hear all the grisly ways a serial killer dismembered their victims on their 6am commute. Arden tells the story of the disappearance of teen movie star Julie Capsom, as Bea Casley, the journalist who was the last person to interview the young star, and private eye Brenda Bently, who has been trying to crack the case for 10 years, as they try to uncover what really happened that night. Despite the genre's tendency to be overly serious, Arden is one of the funniest audio fiction shows I have come across. Maybe it's the eccentric billionaire who owns the radio station or the goofy conspiracy theories, but Arden perfectly balances comedy and the serious nature of their topic. Arden concluded their first season in December 2018, but a second season is already in the works.
4. Girl in Space
Just as the title implies, Girl in Space shares the story of main character X, a young woman who loves animals, cheese, Jurassic Park, and has spent her entire life on a space station orbiting the sun known as Ra. When the menacing corporate agency Caldwell Enterprises arrives on the edge of space, X must escape their clutches with a cast of new friends and uncover what exactly is going on with the spaceship she calls home. Narrated as part science log, part audio diary, Girl in Space delves into ideas of identity, friendship, corporate takeover, and what it means to be human. Beautifully written and sound designed by Sarah Rhea Warner, Girl in Space is one of the biggest inspirations for my own personal podcasting aspiration. The final episode of Girl in Space releases this year, making now the perfect time to get caught up.
5. EOS 10
For those who are fans of medical dramas like Scrubs or Grey's Anatomy or the sci-fi comedy of Star Trek and Battlestar Galactica, Eos 10 combines these into a hilarious medical romp with compelling, though slightly silly plot lines and characters, all while managing to tell a dramatic and sometimes heart wrenching story. Unfortunately, the show has recently moved over to Stitcher Premium, but fans argue that the $4.99 a month subscription is worth access to their favorite show, as well as many others.