An Update on the Fall Season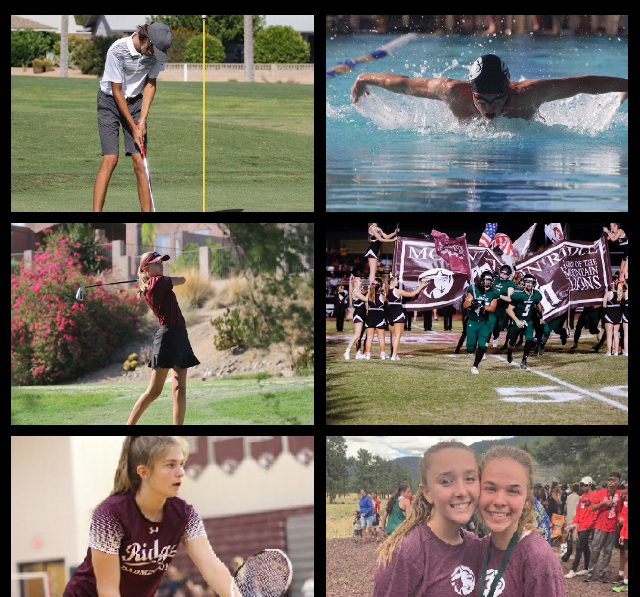 As the 2019 fall sports hit their halfway point, we'd like to share their efforts thus far.
Swim and Dive
Mountain Ridge's Swim and Dive team is mid season, and they've been doing great! So far there have been five meets total – three standard ones and two try meets, and both the girls and boys teams have won or come at a close second at most of the competitions.
"Our girls team is amazing. I believe they've won every single game, except they've taken second once. The boys are doing pretty well [too]. We don't have as many swimmers this year, but we've still won once or twice, and we've tied. So it's doing alright," stated Bryce Busramante, a captain on the team.
Both teams dedicate a substantial amount of time to the sport. They practice at Cactus High School every day for two hours. The coach, Dennis Meyers, puts up a set, and walks them through it step by step. Then they usually get time afterwards to get into pods and work on dives and flip turns.
Their extensive practices have allowed them to be this successful. One of the main highlights of the season has been beating OC when they went against both O'Connor and Boulder Creek. 
Another highlight of the season was when Kara Church won at the last invite. 
"Kara Church got 1st in the 500 at the last invite. Her score was about 457, so she beat all the girls in her heat," says Gavin Anderson, another captain of the team.
Bustamante agreed that Church has been an important member as well.
"Kara Church just broke two records at our last invitational. One of those she had set herself, so she broke her own record at that point. She's really stood out," Bustamante stated.
Both captains have also agreed that the closeness and dynamics of this team have been amazing this season. This along with their practices are leading them in the right path for this season. They hope that this combination of closeness and hard work can help them reach their goals. 
"[We'd like to] get at least a spot in state for any relays, and for any individual event in state," Anderson stated.
They go against Liberty at Sunrise Mountain on October 8. Be sure to show up and support the teams!
Football
     The Mountain Ridge Varsity football team has been off to a great start with a record of 4-1, coming off of a disappointing season last year of 0-10. They have been putting in so much hard work this year, with practices on Monday- Thursday, games on Friday, and a team lift on Saturday. 
     Under the leadership of Keegan Stancato, Cole Mitchell, Tommy Ellis, and Desmond Lott, the team has improved immensely and everyone is so proud of what they have been able to accomplish. They hoping to continue this record and lead them to an amazing ending season to be proud of.  
"The season is going great so far we are competing and coming together as one," said Cole Mitchell. 
     Cole Mitchell, who is one of the Varsity football captains, stated that they have been working together a lot more this year, rather than last year. Under the new leadership of Coach Madoski, the team has been working together to lead them to more victories. Last year's  unfortunate season really motivated Coach Madoski and the captians to work hard to make this team as best as it can be.  
"Everyone has put in a crazy amount of work throughout the offseason and results are starting to show, we have a ton of guys on both sides of the ball making plays" said Keegan Stancato. 
    Continuing the season, they are hoping that they will be able to keep up the awesome record and have an amazing season this year. Good luh Mountain Ridge football. 
Badminton
With a phenomenal standing record of 5-1 so far this year, Girls Badminton's coach Timothy Rosinbum is eagerly anticipating similar success throughout the rest of the season.
Rosinbum has been coaching badminton for over 9 years; he and his team(s) have been involved in around 120 standard season matches, not including playoff competitions. Out of these games, he's just recently won his 100th. Rosinbum is quite sure of his team's ability to maintain the same remarkable standards.
"I am confident that our team will continue to excel and improve," Rosinbum stated.
Currently, the team participates in rigorous practice sessions that are around two hours in length. According to Rosinbum, the practice consists of conditioning, both footwork and hitting drills, as well as competition training. All of this effort works to dent out any flaws that the team needs to work out, and so far the process is seemingly going well.
The coach states that he's overwhelmingly pleased with his team's performance so far. In regards to the future, Rosinbum relayed that the team wants to continue to improve, bond and make the playoffs.
With an outstandingly hardworking group of talented individuals, especially one Kaitlin Tucay, who was noted as being a particularly talented member, Rosinbum and the Girls Badminton team are prepared for the completion of the season!
Cross Country
The 2019 Cross Country team, lead by Coach Mitchell Moses have been very successful this year.
So far the team has had a team trial and five meets, including Peaks Invite. According to Moses, the team ran very well in Flagstaff. The boys finished 4th with a score of 123 points, and the girls finishing in 13th, scoring 309 points. Moses said that there are a few athletes in particular who have stood out to him so far this season. There were 3 boys who went home with medals, including Hunter Krasa (2nd), Gavin Allen (19th) and Dermot Broderick (21st). Moses would also like to mention Austin Clayton (2nd) and Mason Kozai (20th) who are still recovering from injuries, but did exceptionally well in their Open/Junior Varsity race.
"We have a great mix of veterans and young runners on our team which allows us to be competitive this year and in the years coming," Moses states.
This is Moses' first year as the head cross country coach at Ridge. Last season, he was the assistant coach, and has coached cross country for a total of 5 years. Practices run from 5 a.m. to 7 a.m. and consist of a variety of runners on different levels. Moses stated that they have "key days" which consist of longer running distances. These days consist of running for a continuous 90 minutes or 6 to 12 miles. Some practices are recovery days that contain running workouts such as hills, tempos, or fartleks. Since there is such a variety of skills, athletes are placed into different groups.
Moses believes that the team is headed in the right direction for a great season. Moses stated that the team is filled with many dedicated leaders, a mixture of returning as well as new runners, and that the culture of the team is really starting to develop. With this news, we can expect great things from the cross country team.
Boy's Golf
The 2019 boy's golf team is currently carrying their undefeated winning streak as they approach the end of the season.
They are led by coach Jeff Williams, who has been a golf coach for around 16 years. The team has participated in seven matches thus far, putting them about half way through the season, and finished in 2nd at the Kenny Schall Memorial Invite. The team practices 3 days during the week, in which they do lots of short game practice. Their matches take place on Tuesdays and 
their tournaments are on Fridays and Saturdays. 
Coach Williams would like to recognize senior Garrett Olson for his outstanding work on the team. Williams states that his rounds are around par or better, and has had 3-4 rounds under par so far this season. 
Williams' goals for the remainder of the year are to bring home the DV Cup and qualify for State. He believes that going to State is a close possibility for the boys, considering they currently stand in 12th place, and only need to be in 10th to qualify.
Williams also states that some of the highlights of the season have been seeing Olson exceed in his playing and watching the boys take second at the Kenny Schall Memorial Invite. 
Girl's Golf
Halfway through the season, the girls golf team finds themselves in a good position. The team is lead by Coach Gavin Tolan, who believes the girls are headed towards the right path.
Tolan stated that 7 matches through the season, the girls have played well more times than not. He also revealed that the team has been lead by some new players, three freshmen and a sophomore, who have helped boost the team's success. He would like to recognize Freshmen Allie Sullivan and Sydney Cupisz for shooting some of their best golf so far and for their help on the team.
"The program made a big turn last season and these new young players will be the force behind our future success," Tolan stated.
The girls' practices consist of a lot of strength and conditioning workouts, match preparation, golf drills, and playing the course. The girls will work hard to achieve their goals of playing their best golf and earning the opportunity to play in the state tournament in Tucson.
The girls volleyball team is on a roll so far in their season. Halfway through, the team finds themselves going against high competition and are ready for whatever comes their way.
Annie Williams, who's been coaching for five years, along with club volleyball, is excited to see the team work together and work hard to get the wins.
"We have a young team that is learning to work together so it will take a little time to gel," Williams stated.
The team has constant practices everyday of the week when they don't have a game. Their practices consist of improving themselves from mistakes made in previous games and focusing on basic fundamentals.
Multiple players have been going above and beyond and have made a big difference on the court. This includes Jordan Kress, an outside hitter/setter who has a Division 1 scholarship. She has been consistent with her hard work and setting a good example that the team needs. Alyssa Uhlenhop is another Division 1 player who has been noticed for attacking the middle. Madison Girnius, who is a returning player, is also a great leader who has greatly improved.
The teams goal is to finish the games strong in order to lead them to the state tournament.