All American Cheerleaders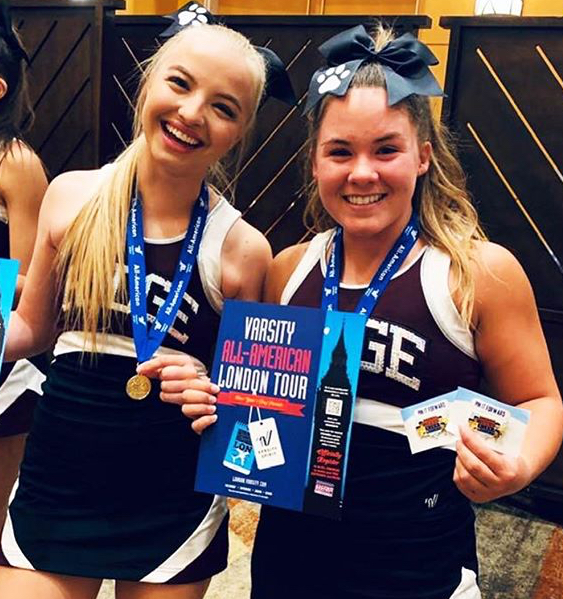 Varsity cheerleaders Bethany Horton and Anna Alexander have recently been selected to be on the All American Cheer Team. These seniors participated in a camp through UCA (Universal Cheer Association) and were selected out of hundreds of girls across the state to be members of the team.
Horton has been a part of cheer since 7th grade and has spent the last 2 seasons cheering for the Ridge team.  Alexander has been in cheer for 6 years, and has spent the last 4 on the Ridge varsity team. Over the summer, the girls were given the opportunity to try out for the All American Team at their cheer camp. During the tryout, each athlete was required to perform the dance and cheer material from their camp, as well as a jump of their choice. The girls performed in front of the whole camp and were judged by a panel of UCA staff members. 
"It's not too scary because everyone is supportive of each other, as each athlete tries out," Horton stated.
The selected athletes were announced on the final day of camp during the awards ceremony for their wonderful display of spirit, their ability to perform, and for their excellent athleticism. 
"They were looking for really good energy. Smiles, really big happy smiles, and they were looking at our jumps, and our dance, and our voices in the cheer, and our emotions," stated Alexander.
Cheer teams from all over Arizona competed. However only around 20-30 out of the hundreds of participants were chosen. These tryouts were nationwide, and the selected athletes are given the incredible opportunity to be on the All American Cheer Team, and march in the New Year's Day Parade in London to represent UCA and their schools. The parade will take place on January 1st, 2020. Cheerleaders will get to explore London, meet cheerleaders from other countries, and show off their skills in the parade. As members of the Team, the girls will have more opportunities for practices and will get to go to more camps
Horton and Alexander have had many people who have mentored and encouraged them along the way. Alexander would like to recognize her sister, a former Ridge Cheerleader, and her coaches for their support. Horton would like to recognize her coaches, Ms. Montileone, a former cheerleader from the University of Tennessee; Coach James, who she claims was someone who helped build her athleticism and cheer knowledge; and Coach Saunders, who she says helped teach her how to be a good leader, student, and person on and off the sidelines.
The girls are very excited for this amazing opportunity, and have said that it reveals a lot to each of them. 
"To me, this opportunity shows me that my hard work, noticed or not, has always been worth it. From the miles ran to the sore muscles after practice; each day, each coach, and every team have all helped shape me for this moment and this honor," Horton states. "I am proud to represent UCA as an All-American Cheerleader and I am proud that I am able to utilize all of the skills and lessons my mentors have taught over my short six years of cheerleading experience."
Alexander had a very similar statement, in the sense of realizing her growth over the years. Because of that fact, this opportunity is extremely important to her. 
"It shows me that I've been working really hard for the past few years. Trying out against all the other girls showed me that I proved to myself that I could get out of my comfort zone and that I can do more than I thought I would," Alexander states. "Before, I was scared to do things like this, but now I know that if I don't try, I will never know what will happen."