The Climate Strike
With the upcoming presidential election, many important topics have been brought up at debates: health care, student debt, the border crisis, and of course, climate change. Climate change is such a hot topic, that CNN even held a democratic town hall dedicated to the subject. This was done because of the pressure young voters have placed on candidates, and when it comes down to it, the youth are who have raised the biggest uproar when it comes to climate change.
Greta Thunberg, a 16 year old girl from Sweden began her own school strikes a year ago, when she sat outside of Swedish parliament every day until people began to notice her. Her movement has definitely grown, and she has started the worldwide #FridaysForFuture strikes, where students hold a protest every Friday to show their local governments the urgency of climate justice.
A group of Mountain Ridge students, involved in Club Earth, took part in the demonstration on September 20 in downtown Phoenix. The march was about 1.5 miles long, starting at the Maricopa County Courthouse, and ending at the capitol. At the Arizona Capitol Museum there were multiple booths set up by climate activist groups, encouraging people to become even more involved with climate justice. There was a stage which featured many guests who were delivering speeches, most of them were indigenous people, or people of colour; the youngest person to give a speech was six years old. Around 2,000 people attended the march in Phoenix alone, and this figure shows how many people find the climate crisis to be one of our most important issues.
Orion Laurenz, a senior here at Ridge, was one of the main organizers of MRHS's involvement in the strike. She began to involve herself with climate action as a freshman, and now 4 years later as a senior, climate action has become extremely important to her. This strike and movement represents just that.
"[The importance of the strike was] to raise political awareness as far as how severe climate change is. The main point of it was to try and get the attention of our officials," Laurenz stated.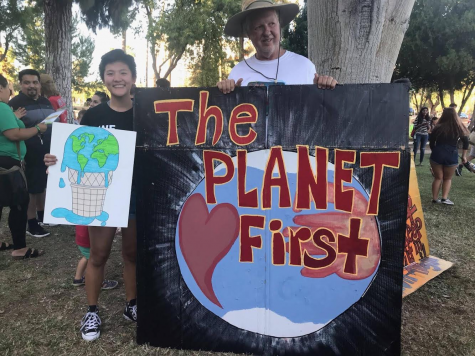 More than anything, people want their voices to be heard. The issue of climate change has come to the forefront of youth issues because it will directly affect our futures. However Grace Xu, a junior, believes that climate change should be important to everybody, no matter their age.
"Everybody should care about climate change. Extreme weather is going to become more common, and we're already seeing that with the recent hurricanes," Xu states. "People are dying and being misplaced because of the effects of climate change. Animal species are going extinct every day, and their habitats are being destroyed, so it affects people and animals everywhere."
For both Laurenz and Xu, climate justice is all about the future.
"It means looking out for my generation and future generations in terms of giving them a good environment and a good planet to grow up on," Laurenz stated.
Climate change can sound like a lot to handle at once, because it is a lot to take in at one time. The climate movement reminds us constantly of the melting ice caps, the loss of our rainforests, and the rising temperatures of our planet. Many people feel helpless when it comes to saving the Earth, but there are small things you can do to help the planet. This includes eating less meat, buying less wasteful products, carpooling more often, refraining from littering, purchasing less fast fashion and being generally conscious about how your actions impact the environment.
Of course being mindful of these things is important, however, what really matters and makes a real impact is who we vote into office and our involvement with the government. They're the ones who can make real change happen, so contacting your legislators and being informed in politics is the most direct way to make an impact on the state of Earth's climate.
So, as Xu says, "Let's keep the planet pretty."
About the Contributor
Aileen Resendiz, Editor
She is a sophomore in her second year of newspaper. She loves dogs and writing.  She enjoys newspaper because of the opportunity it gives her to express her opinions and write about the things...