Hurray For Homecoming
Jillian Bretz
October 16, 2019
Hang on for a minute...we're trying to find some more stories you might like.
Every year around the middle of September, Mountain Ridge hosts an annual Homecoming dance. This is one of the largest events of the entire school year; it's also the only dance freshmen and sophomores can go to (without being invited). It's a night for students to flaunt their expensive tastes in fashion, a night for them to have the time of their life.
The Homecoming dance was on a Saturday night, yet was preceded by the actual game on Friday. MRHS's Homecoming game includes fireworks, loud music, hyped up students, and the Varsity Football team at their best. The game, and as well as the following dance, are Ridge traditions, but this year STUGO, led by advisor Doug Evans, decided to do something more.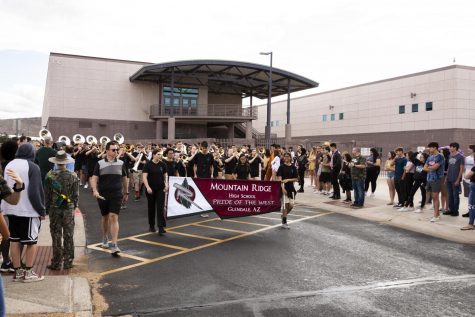 On September 26th, the first ever Ridge Homecoming parade was put into commission. The parade consisted of floats that represented different clubs, spots, and classes, all of which were made to show off to the school and surrounding schools. Ridge was inspired by surrounding schools in the area to jump into the parading tradition.
"We have been thinking about doing it for a while now, most of the other schools in the district do them and many of the other neighboring schools as well," Evans replied.
With any new, large scale experiment, there are many concerns like student behavior, the weather as well as the amount of participation.
"Since it was our first year doing it, there were a lot of worries, concerns and stresses. In general, not knowing what to put in and what all needs to be done is a huge undertaking to start the first year," Evans said.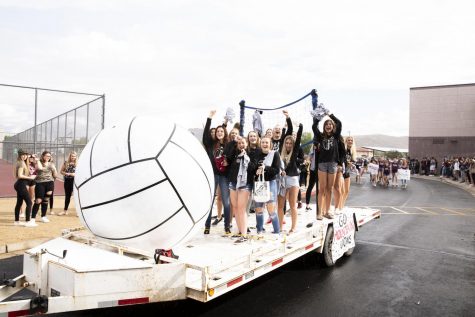 Once the planning commenced, the major worries like roadblocks, time frames and participation dissipated. When setting up for the parade, Evans remarked that he was nervous about what would and could happen; he said these worries went away once everything got started.
During the parade, Mr. Evans was very busy making sure everything went according to plan.
When the parade finished going through MRHS, the floats and participants made their way towards Copper Creek Elementary. Evans commented on the general demeanor of the students present.
"They loved it. [I] Loved how we bussed in other feeder schools to be a part of it also," Evans exclaimed.
Although the parade surpassed expectations, there were a few minor changes that Evans would like to incorporate for next year.
"It's the little things that need to be changed like we need to have banners for royalty, music for each float possibly. Just minor things," Evans said.
Once the parade had come to a stop, Evans was able to appreciate the entire experience and is excited for the future of the parade.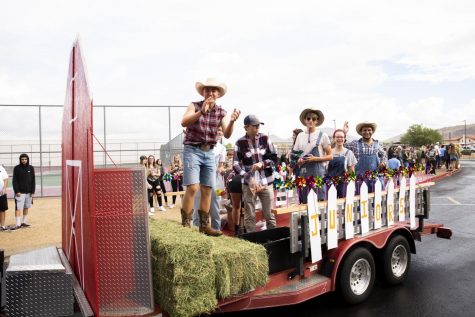 "I was very happy," Evans said. "My STUGO kids did a fabulous job with everything, people loved it and it was good to be done with it for this year. The initial time is the hardest, hopefully we will be able to build on it for the future," stated Evans.
The whole parade experience was amazing and a blast for all participants, teachers and students alike. Mr. Evans and all of Stugo are excited to make the MRHS Homecoming parade an annual event.