Ridge Runway: What is Style to You?
Morgan Jane-Huxel, Junior- "Style is uniqueness that matches your personality."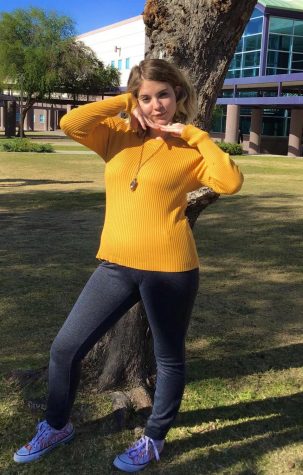 Morgan is like most of us. She wants to feel unique and like she's being the best version of herself. Her style could be described as casual, but it's the small things like her accessories that make her stand out.
"Jewelry and hair stuff are amazing, and I love to wear them," she says.
Style and comfort come in a package for Huxel. While she won't break her back for a high heeled shoe, she still makes it a point to dress her best.
"I care about how I dress, and what people think of my style. I care about how I look," Huxel said.
Her message for anyone who's struggling with their style is to ignore the opinions of others. When it's about you, your opinion is the only one that matters.
"Wear stuff that you like to wear. Don't let anyone else tell you 'Ew! Jeans and that shirt?' No."
Chloe Inocencio, Junior- "Style is uniqueness that matches your personality. Something that makes you feel confident."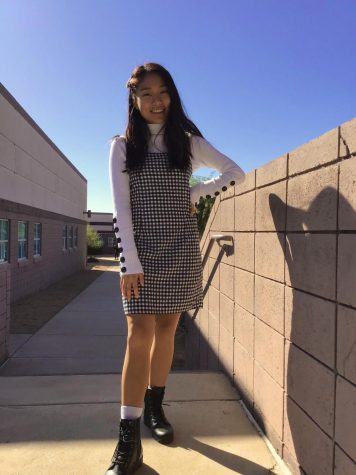 Inocencio's style is nothing short of simple and classy. Minimal accessories and a matching pair of shoes is all she needs to make an outfit completely her own. For her, comfort doesn't mean wearing sweatpants, but rather expressing the truest version of herself in her fashion choices.
"When I feel what others would define as "comfort," I don't feel confident. I can conquer my day when I feel stylish," she says.
Chloe also knows few boundaries when it comes to her style. As long as she's confident, her wardrobe is always expanding and gaining its variety.
"Typically I go for clothes that I don't have in my closet, or something very unique," she says.
Fashion, and developing your own amazing style, doesn't always require a lot of money. For Chloe, she doesn't need to pay full price to get what she wants.
"I go for clothes that make me feel good, and it's usually going to be in the sales section," she says. "I go for cheap clothes."
If you're not a morning person but you're looking to up your style game, take after Chloe who will sometimes make an outfit the night before to avoid that stress when she's getting ready. Looking and feeling stylish doesn't have to entail a 2 hour head-start on your morning routine.
Aidan Stephenson, Senior- "Style and fashion is not about what you wear, exactly. It's about how you wear it and the kind of attention you want to get from what you wear."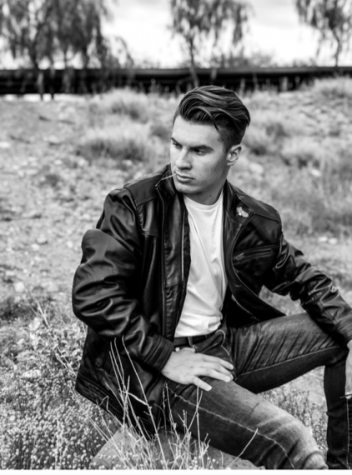 Stephenson is an active model and photographer on Instagram, and I wanted to feature him in an effort to show a style that is bold and brave, but also a person who exemplifies originality in every aspect.
On the surface, Aidan is like any other guy who shops at Pacsun, Coach, and American Eagle. However, more often than not, you'll see him with a toothpick in his mouth— that's his own personal staple. He knows that the great thing about developing a "brand" or a style that is your own is that people will recognize you for it.
"If you embrace the way you wear your clothes and pick something that's unique to you, then it becomes your staple piece or your symbol," says Stephenson.
"I like to wear things that nobody else really wears. A lot of my clothes are very unique and different from what others around me wear," said Stephenson.
Aidan really wants to get into the more high-end fashion. There's so much out there; it seems unlikely that as a high school student we'll ever get to experience it… because it can honestly get a little pricey.
"I wish I could explore more of the designer clothing that's really out there," says Stephenson. "Some of that looks really good and I would love to venture out and try it."
Perhaps this a goal for Aidan in the future. Developing your own personal style is a way to show the world who you are, because while the cover is not the book, the cover can almost always tell you just what you need to know at first glance.
"Style has helped me build more self-confidence. When I wear something, I want to look good and when I look good I get compliments from others and that builds my self-confidence," Stephenson says.
Cassidy Bolchalk, Sophomore- "Style is a way people can express themselves without verbally doing it. Not everyone is a social butterfly so I think those people express themselves subtly through clothes."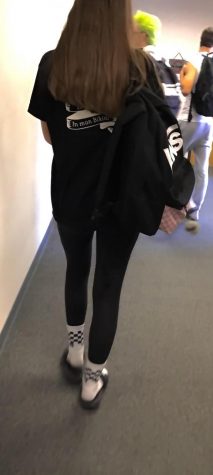 Bolchalk's style, for lack of better words, is the easiest to stereotype.
"My style is definitely constant. All I wear is some random t-shirt and black or jean colored shorts," she says.
What makes Bolchalk unique is how she combines her personality with her clothes and embraces what people are automatically going to see when they look at her.
"I don't really know what my style says about me, but I'm definitely not shy.
"Stereotypes suck because we all use them against people," Bolchalk says. "Basic people, we all know, wear Brandy Melville and own Hydro Flasks. Emo people have darker clothing and they can either be really dark or actually nice. And then there is just people who wear the same pair of jeans with a different shirt and nikes, and they are sometimes the shyest people of them all."
When she's shopping for her clothes, it's never out of the ordinary. She defies the common misconception that to have style, implies wearing things that are different or "out there."
Bolchalk's style works for her and her present level of comfort with her body.
"Right now, I don't really have the "body type" for most of the stuff I want. My shoulders are broad so I wish I could pull off more stuff that showed that," she says.
She hopes that as she continues her personal journey, she can improve her confidence more every day and eventually embrace new fashion.
Vanessa Mapes, Senior- "To me, fashion is how one selects pieces and items to put together to create a look they feel best expresses them. Style is how one personally configures their look in a way which best expresses who they are."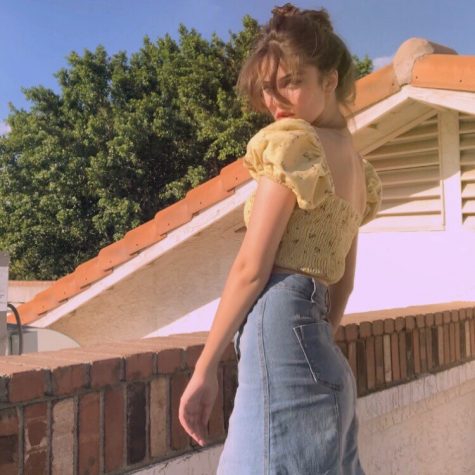 Vanessa Mapes, 18, is a model and contributing editor for QP Magazine. More than that, she is human. Like the majority of kids, she has gone through 15 different phases, and through it, has learned a lot about herself and the world around her.
Mapes has always struggled with her identity, trying to be someone who doesn't care about what other people think. Early in her youth, she changed the way she dressed to please others.
"I tried to get into the whole skater/beach girl Tilly's lifestyle but it never really felt genuine, just another way I was trying to blend in more so people wouldn't make fun of me so much."
When she gained more confidence is when she dived into her interests.
"I discovered Hot Topic, and oh boy my emo phase blossomed. I think that was the first time I began to truly express my individuality, especially when I got into anime," she says. "Everyone's different and unique in their own way; it's just how much you embrace that part of yourself that makes you stand out more."
People are always changing, even when you're not looking, and that's really why style exists; so that the outside is always catching up with the inside.
"I tend to not really like sticking to the same style for very long; it makes me feel claustrophobic," she says.
It's a large transition to go from an emo to a vintage feminine, but that's really what evolving through your childhood is about. It's natural to have a drastic change and Mapes learned how to embrace that fact.
Currently, if you see Vanessa around school, she'll probably be wearing a skirt.
"I'm actually IN LOVE with skirts, a-line, pleated, midi, I adore them," she says. That's been my go to for a while now. The whole "soft girl" aesthetic really speaks to me, as well as the 90's soft grunge as I evolve into my fall style," she explains.
In addition to learning about her own style, Mapes has become an efficient shopper as well.
"When shopping I try not to go in blind; not jumping into the store and looking for "what seems cute."
From her own experience, she knows there are the dreaded "regret buys," the exceptional "statement piece," and the "investment item" otherwise known as the 'you might not need it now, but you will later.'
She'll shop at Forever 21, H&M, Goodwill, and also online where she can find a sale.
Perhaps the most important lesson anyone can learn from Vanessa is that style knows no level of boundaries because it's different for everyone. Some people find their style when they're 13, and some not until they're 20. You can't put a timeline on personal journeys.
"Every year so far has been different for me throughout high school, and I've accepted that it's okay to change so much but that doesn't mean it's bad to stay the same when you've found out who you are."
Avril Hinks, freshman- "Style and fashion I think speaks for the person. If you see a person and you see what they wear you can definitely tell who they are and what they love doing based on their style."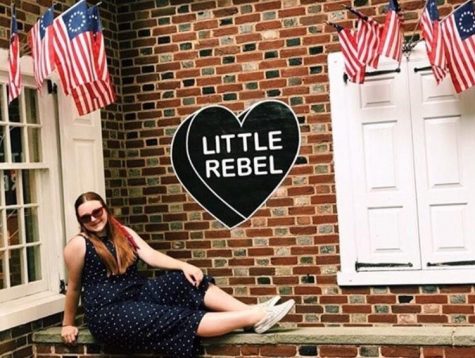 Avril is someone whose style never has to compromise her having a good time and being exactly who she is. You don't have to be uncomfortable to be fashionable.
Her number one style icon is her mom. When she shops, usually at Old Navy and Kohl's, she'll head straight for the "mom" section.
"I'm really inspired by the clothes my mom wears because she's super stylish, and I love her fashion. I'm always stealing her clothes, and she gets mad at me," Avril says, laughing.
Her wardrobe is the most in synch with her personality than anyone else I've talked with. Her style definitely reflects that
she's someone you'd want to be around on a gloomy day.
She explains, "My personality flows a lot with other people and so getting that pop of color is definitely me. I'm an energetic person so I definitely like the wild colors."
Accessories are also important to Avril's everyday look. She believes that an accessory is what transforms an ordinary pair of pants and a shirt into an outfit that speaks to you.
"It's something as easy as putting a scarf in your hair or like a headband or keeping a bag on you. It adds that extra touch that I think makes up the person," she explains.
Haylee Boggie, Senior- "For me fashion is really just expressing yourself, and for a lot of people, including myself, it's a way to feel confident. And I know I still don't really feel confident when I dress up, but it makes it easier."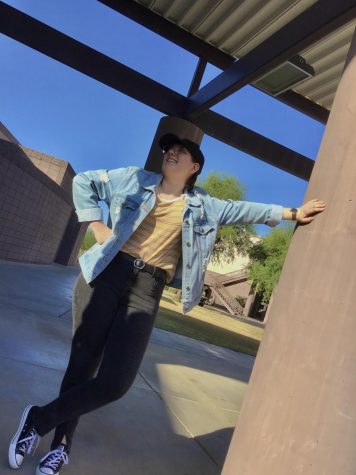 As high school students, and as humans in general, we struggle a lot with identity. For Haylee, this speaks the most truth in her life. However, she's used her style to get in touch with herself as much as she can.
"When I shop for clothes, usually the first thing I look for is does it look comfortable, and I'll look for the more masculine clothes," she'll explain.
For the most part she dresses monochromatically because that's what she feels comfortable in.
"I like muted colors. Sometimes I bring in a pop of color, but that's a rarity,"
Boggie says.
More than anything, she understands that you don't always have to "dress your best".
"Sometimes you need a pair of baggy jeans and a sweatshirt," says Boggie.
Accessories for Haylee are a matter of creating a look that speaks to her.
"I love accessorizing. It completes an outfit and pulls everything together," she says. "I feel naked without accessories."
Feeling comfortable with what she's wearing also includes wearing things that are important to her; a statement piece that shows her true soul.
"Sometimes I don't even think about what I wear. Like my watch. It's just important to me," says Haylee.
Like most of us, Boggie is still figuring out who she is and her place in the world. She valiantly proves that you don't have to know who you are to dress in a way that makes you shine. You have to take it one day at a time.
Leave a Comment
About the Contributor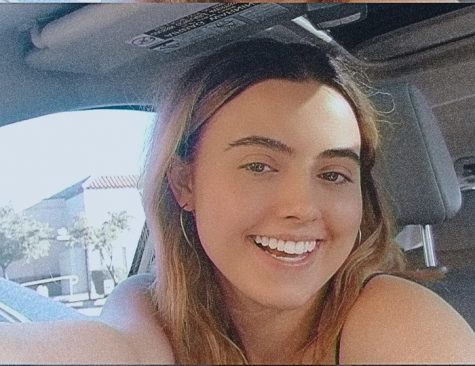 Devyn Marie, Lead Editor
Devyn Marie Rowan is a senior in her second year working for The Ridge Review; she's our Lead Editor. She has a passion for writing in order to connect with those around her. She wants to use...