Making A Little Music
Making learning interesting can be a very challenging task for teachers. Not only do they have to make sure that the information makes sense to their students, but they also need to find the best way to engage them in whatever they are learning. One teacher in particular has stood out in the field of making learning interesting with something everyone enjoys.
"I feel like that is probably the one thing that brings all teenagers, and perhaps all people together, is music," stated Jacob Gabow, a Ridge Spanish teacher. "And so I just feel like some kind of music is everyone's passion."
Gabow brings music into his classroom on a near weekly basis. He brings his own instruments into class, including a keyboard, bongos, and various others. Music is a very common tool used in this Spanish teacher's classroom. Students can engage by singing along, listening, and even playing instruments for the class alongside Gabow. When Gabow isn't playing an instrument, music is still included in lessons through other musical artists. Gabow finds professional songs online that contain topics or vocabulary that correlates to what is being discussed in class.
Gabow has been involved in the  making of music since he was young. He started out playing the tuba in the school band. He later switched to the saxophone, which is what he currently plays now. Outside of school, Gabow plays lots of instruments for fun, and plays the sax and clarinet professionally. He enjoys being involved in different bands by playing at parties and other events.
It can take lots of time for a teacher to get to know their environment, figuring out what teaching strategy works best for their students. Gabow has discovered that music can be very beneficial to the majority of his students.
"They hear the music and that makes them a little less trepidatious about the whole academic elective class," Gabow states.
Speaking from my own personal experience, I found music to be very beneficial while taking Gabow's Spanish 3-4 class my sophomore year. I feel like the music gave us a taste of the overall Spanish culture, which was helpful in the overall understanding of the language. The fast pace music and lyrics also challenge students to focus in on what is being said. Though challenging at times, it causes students to really use their brain and fully immerse themselves in the language and culture. Not only does this make the learning more fruitful, but it makes it entertaining.
"For most teenagers, they really enjoy listening to a song and singing along, whatever it is," Gabow said. "You know, finding something, finding fun in that way."
Gabow would recommend the incorporation of music into any classroom. Music is a very helpful way for students to learn and retain information, which is why it would be a very beneficial addition in other classrooms. Gabow also enjoys how music causes students to be productive and engaged in class. When students come to him with a song for the class that relates, he says that it demonstrates that the student cares and is invested in their learning.
"If they [teachers] hear something that you [the student] related to it [the topic], it's powerful," Gabow says. "They feel like you materialize the learning more that way and it also gives them something to do that the students suggested."
Gabow's goal of music incorporation is to bring in something that people enjoy in their daily lives, with the hope that they will take it out and benefit from it. Teachers who find a great way of engaging and teaching their students should be recognized because it is never an easy task. This is why Gabow's strategy is so remarkable.
Leave a Comment
About the Contributor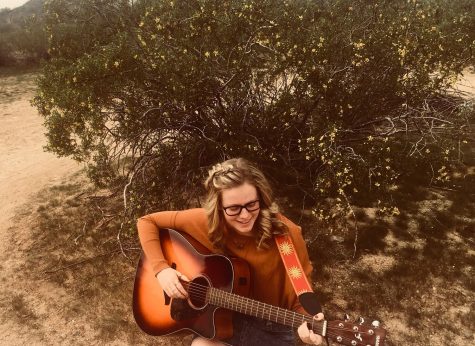 Emma Padelford, Editor-In-Chief
She is currently a senior and it's her third year in Digital Communications. She has developed a huge passion for writing over the past few years by being an editor and a journalist. She appreciates...