Flinch Away From The Grinch
I'm going to state the obvious here. Do not try to ruin everyone's Christmas by stealing everyone's over priced gifts, and fake Christmas trees. Before you steal the yodelers outfit for that Christmas party you were going to attend, listen here to how to not be a Grinch this Christmas.
Let's start with making that heart not twice, but three times its size. Giving a gift can always lighten your spirit, and someone else's. It can even be something as simple as a small card or a little piece of chocolate. Making someone's day can actually give you a smile, and give you those warm and fuzzy feelings. Another thing you can do is make a food basket for anyone that could be homeless, or help them out in a different way. Giving not only brightens someone's day, but it also brightens your own.
Instead of dreading every version of Jingle Bells or Frosty the Snowman, try and change your mindset. With a clear and positive mindset comes a happy and at peace. Now, how do you change your mindset, you may ask? It's simple. Take every negative thought you have about something and throw it in the trash. Those thoughts are worthless compared to the joyful ones.
Another thing to do is to throw in a smile every now and then. Start to make smiling your favorite, just like Buddy the Elf. Not only will this bring light into your day, but will spread smiles all around. You have a beautiful smile, and it's contagious to so many other beautiful smiles.
Along with all of the ways to make others happy, take a moment to reflect on what makes you happy. Whether it is the fuzzy socks you get to slip on during the "harsh winters" we have here, or the thought of company of your loved one; anything will do. Doing the things you love and enjoy will place you into a better mood to spread love to others.
Finally, give compliments to others. It doesn't matter if they are someone you know or a complete stranger. Words are worth more than gold. Put a smile on someone's face, and say to them that they will hold onto forever. Share blooming words, and never share wealting words. Everyone prefers a beautiful blooming flower to an old wilting flower. These kind words will create those great feelings, which are feelings of being loved.
Now that you know how to become a thriving citizen, go out in the world, and show others that your heart grew three times the size. Show your current Grinch friends that they can learn to be happier, too, and that they should never lose hope. There is hope for the hopeless through love and happiness. Spread what I have shared with you to the world, and don't forget, Santa's always watching!
Leave a Comment
About the Contributor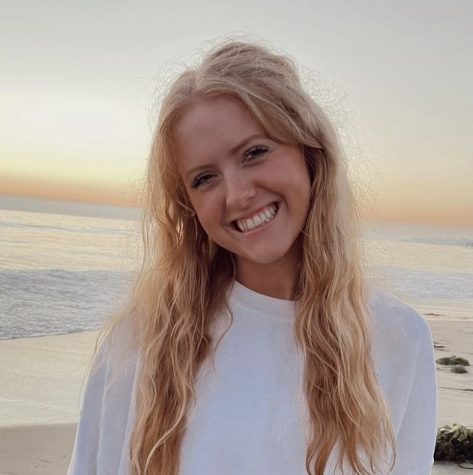 Ava Padelford, Co-Editor in Chief
Ava Grace Padely is a senior and it's her fourth year working for The Ridge Review; she's our extremely passionate Co-Editor in Chief and Primary S.M. Manager. She enjoys being creative in coming...