What to Expect This Track Season
Information About Trying Out
Are you interested in the Mountain Ridge Track team but know nothing about it? Here is everything you need to know about track and more. The season begins February 10th at 2:30 PM. Though prior training helps get you into the season, it isn't required because you will be trained during the pre-season of track.
What does each practice look like?
A typical practice begins with a small meeting, then the coaches will take attendance. After, student athletes will do a warm up by running two laps around the track, then they do dynamic drills. Following this, the athletes split up into their specific track and field categories with their coaches. Each practice ends anywhere from 4:45 p.m. to 5:30 p.m. and are on Monday through Friday.
Meets:
There are 6 meets in the season and they are every Wednesday. The meets begin the last week of February. Although practice is only Monday through Friday, the coaches may give practice on the weekends to prepare for meets.
What are the goals of the season?
The goals for this coming season are to get students to come out and try out for track. It doesn't matter if you are the fittest and fastest or if you are not at your best. Track is a sport for everyone and will put you in great shape. Another big goal is to keep the team positive and motivated. Mrs. Saufley, head coach of the girls track team, shared that a big goal is to get students into state.
"I love to watch athletes improve and help them become the best they can be. Not just physically, but personally," said Mrs. Saufley.
How can students stay motivated throughout the season?
Students can stay motivated by setting goals to beat their last performance. Doing this will help athletes work harder to be more successful in the sport, and it will have a big impact on them in the end. Once athletes see the improvement, they will understand that hard work leads to success. This will furthermore lead to them being motivated throughout the season.
What should an athlete bring to each practice/meet? 
The most important thing to bring to a practice would be water, running shoes, and athletic clothes. Only the varsity team will be highly encouraged to get spikes for the season, and as an athlete gets better, they may need to purchase them, too. It is also good for an athlete to bring a snack before practice in order to stay energized and not hungry.
Track is a great sport for athletes of all levels. It gives students the chance to become more in shape, and be able to be apart of a team. Being on a sports team gives many opportunities like making new friends and developing a new skill. Come and try out for track and make the most of your high school years.
Coaches:
Kelly Saufley: Girls Head Coach
Chad Miller: Boys Head Coach
Mark Faust: Jump Coach
Mitch Moses: Distance Coach
Alexis Dale: Throwing Coach
Dereck Delarosa: Javelin Coach
Cory Witten: Pole Vault Coach
Leave a Comment
About the Contributor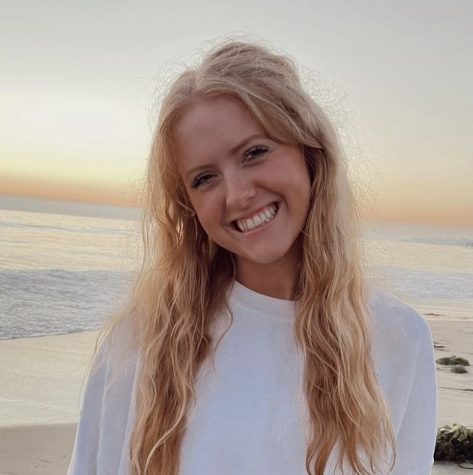 Ava Padelford, Co-Editor in Chief
Ava Grace Padely is a senior and it's her fourth year working for The Ridge Review; she's our extremely passionate Co-Editor in Chief and Primary S.M. Manager. She enjoys being creative in coming...