Score of the Season
With the final whistle blowing on this year's season of girl's soccer, both junior varsity and varsity have a lot to be proud of. Despite an injury plagued season and difficult competition faced under the lights, the girls grew as one and fought each game to the end, together, as mountain lions. From 15-0 victories to 11-0 losses, the soccer girls used the winter season to improve their abilities and respect working together for a common goal while wearing Mountain Ridge proudly on their chest.
Led by senior captains Chiara Fusciello, Ellie Chorpenning, and Kelsey Biernot the varsity girls soccer team racked up a record of 4 wins, 7 hard fought loses, and 1 tie. Despite the record, the team racked up 40 goals over the course of the twelve game season. Highlighting this year's season, was a spectacular 5 goal win over Westview as it was the most successful and highest scoring game the girls were able to obtain. Consisting of one freshman, four sophomores, six juniors, and eight seniors, the girls got granted a shot at playoffs. On Thursday, the 13th, the girls get to earn their last right to keep their season alive at Desert Ridge. It all comes down to kickoff, at 6 p.m. on Desert Ridge's home field. The girls have worked through countless bleacher runs, tetious possession games, and shooting practice that they all get to apply to their 90 minute battle. The coaches are ready and so are the girls.
Along with the varsity's successes are those of jv. Captains Tatum Dowell, Jessica Cavalari, and Rylee Ratcliffe have helped their team achieve a goal differential of 53 goals scored by the team to only 27 by opposing competition. Their record of 5-5-2 is one that was achieved by intentional and dedicated practice by motivated players. On a not so high note as all seasons store, the team fell victim to O'Connor High School and lost 9-1 which was a tough one for them to swallow. But, every cloud has a silver lining and in another game the girls marked 15 goals against Copper Canyon and had to be stopped by a mercy rule, that is in place when teams are too far ahead for comeback. The team which was made up of six freshman, seven sophomores, and six juniors, one being a foreign exchange student who was experiencing soccer for the first time, ultimately used the losses to bounce back from and all games to learn.
Next year, the teams hope to see higher numbers in their win columns. They are very happy with how the season went and the players are going to greatly miss their teammates and coaches in the off-season. The seniors still have a chance to go out with a bang in playoffs and Mountain Ridge will get to see where and how far their team goes. This year's varsity team is something special and anything can happen with a ball at their feet.
The fans that have supported all winter from the stands were a huge help to this girls program and the teams hope to only grow an audience to watch them compete. They for sure felt your presence and appreciated the ever growing crowd. For some girls, this is their beginning. They get to lace up their cleats and tie back their ponytails and play under the lights for years to come. While for others their cleats are getting hung up after the clock strikes 0 and numbers will never see their backs again. Whatever graduating class the girls are in, all soccer players on the team have one thing in common, a love for the game that Coaches Gina, Evans, and "Z" all got to witness this year from varsity and jv girls soccer.
The ball doesn't lie and the varsity team is hoping it tells them they get to advance on in the playoffs. Wish the coaches and the varsity girls soccer team good luck as they play for their lives. All of Mountain Ridge is behind you on that field. Play and win like Lions.
Leave a Comment
About the Contributor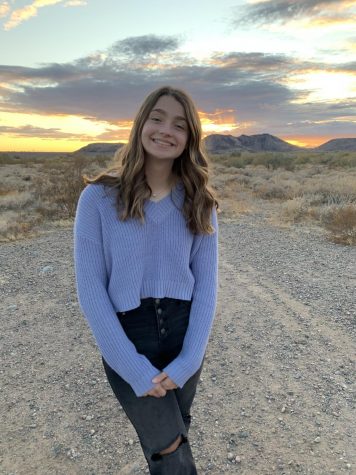 Makayla Bast, Journalist
Makayla Bast is a junior and it's her second year writing for The Ridge Review! She loves to write and get the important news out about stuff going on and around campus. She also loves getting...