Problems to Solutions
Due to more recent circumstances, teachers are being acknowledged in ways that they have never been before. Teachers are now proud to say that the world is realizing that, "teachers were never the problem." 
COVID-19 has put millions of children out of school world wide through the shut down of schools and districts as a whole. Teachers and faculty have also been sent home to figure out a new way to approach their careers and continue to educate their students. 
Teachers must learn how to go from their typical in-person teaching to the complete opposite: online teaching. While educators make the transition to online learning, parents have been called upon for assistance. The transition takes an incredible amount of time. Teachers must learn programs, get through troubleshooting errors, and transform their curriculums onto a new platform. These things cannot be done overnight. Prior to April 6th, teachers spent around 2 weeks getting themselves prepared for the remainder of the school year. At the beginning of April, classrooms were officially online through the use of Zoom and other communication sites. 
Teachers cannot do any of these things alone. They have become heavily dependent on the parents for assistance and patience while they make these transitions. All this is finally making parents see the amount of stress and workload teachers must go through every day to educate their child. 
For the two weeks after spring break, many teachers, mostly elementary educators, sent out various activities to keep their students occupied and learning at home. Because teachers aren't at home to make sure students are staying engaged in some way during this extended break time, parents have been asked to step up to help motivate their children. 
Motivating a child is a daunting task; something that many guardians are realizing at this point. Because the parent cannot see the behavior of their child in person while they are at school, it can be easy to forget how hard managing them actually is; let alone 20-something others in a learning environment. Parents' eyes are being opened to the pressures teachers must face. 
For many, online learning isn't ready to be accessed yet at home. This fact requires parents to start homeschooling their children with information sent by the teacher. The fact that parents are being forced to put on the teaching pants has inspired a new respect for teachers. Parents are now forced to be involved and present in their child's education. It was never realized how hard it was to help a child learn because the only person fully engaged was the teacher. In many instances, lack of parent involvement was the problem before, not the teacher. 
In regards to a previous opinion piece I wrote about lack of parent involvement in a student's life, teachers are blamed for every single flaw one's child may possess. But now, things are taking a turn for the better. 
Because of these events, teachers are being given the ability to do what they do best, teach. They can now teach without the borders placed on them by their schools and parents. For years, teachers have been micromanaged by curriculum, standardized testing, goals, and evaluations. If teachers do not fit the tight molds that are placed on them by their districts, they are considered failed educators. However, due to current world circumstances, almost all curriculum, district testing, and hardcore evaluation have been shut down. States all across America are changing the education system for the remainder of this school year. The molds are being removed from educators and they can now teach their students their own way. 
The mold placed on teachers restricts their creativity. Not only is it placed on them, but it is also placed on students, inhibiting their ability to learn. If they don't pass that year's state test, they don't move onto the next grade level. Then if they don't pass, the teacher is looked to for the failure of his or her student on a test filled with hundreds of ridiculous and unimportant questions that can't all be taught among the other requirements of a teacher in one school year. All this puts tons of unnecessary stress on those in school, which can make the overall learning experience less enjoyable for everyone. This is what the problem was, not the teacher. 
Despite the tough times, teachers and students alike have been given a gift. The gift to learn and teach in creative matters. Once teachers grasp the concepts of online learning, they will be able to teach their students their own way. They are thinking differently. Some use legos to teach arrays and cookie recipes to teach fractions. They are giving their students real world examples, which is really what is needed. 
The hope that when all this is over is that teachers will be given a new appreciation and that people will start to realize that the best kind of learning is derived from creativity and the real world. Not some standardized test and curriculum that will never be touched after high school graduation.
Comments from DVUSD Teachers:
Buffy Vandenboom (6th Grade): "Though this experience was unexpected and a new journey for us all, some great things have come from it. First, I am learning new technology that not only benefits my class, but my personal and family life too. Second, my kiddos love this week's interaction as we are using our technology to "have fun." I am getting to know them specifically and in a fun way. Today we had an indoor scavenger hunt and the boys and the girls enjoyed it. Finally, this new opportunity has allowed both students and teachers to refocus and gain a true appreciation for what we had and will all be thankful when we can go back to our usual places."
Andrea McCall (1st Grade): "It has been wonderful seeing my students on Zoom and it has been a lot of fun! The Zoom meetings were also very daunting and overwhelming because it made me realize how extremely sad this situation is for everyone involved. It has forced the opportunity to learn new things which is great, but it has also confirmed the realization that so much of what we do cannot be done virtually with the same degree of effectiveness."
Amy Gettys (Art Teacher): "As an art teacher, I want to make sure my students aren't feeling stressed about another item on their to-do list. It was so good to see them again after the uncertainty if the last few weeks, and I cannot wait to start seeing their creative expressions and ways they are making art at home. I worry about equity in that some students have access to lots of art and time to make art, but others may not have a lot of supplies or may be taking care of siblings or things at home if their parents are still working."
Leave a Comment
About the Contributor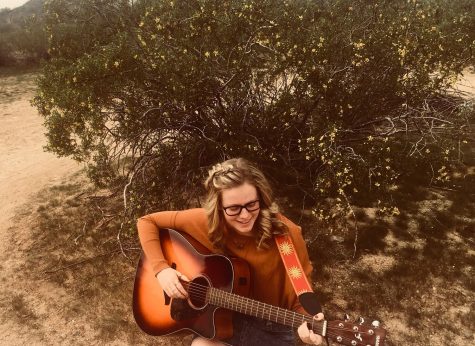 Emma Padelford, Editor-In-Chief
She is currently a senior and it's her third year in Digital Communications. She has developed a huge passion for writing over the past few years by being an editor and a journalist. She appreciates...