Rock-Tober
Imagine that it's 1990. You flip on the radio to hear the best rock songs of all time. You pull out your air guitar and start jamming out like you're the legendary Eddie van Halen. It's your own dance party and anyone's invited. 
It's the sweet month of October and a great time to dust off the record player to groove to the best rock songs of all time. We can all agree that these 10 songs are some of the greatest of all time, but the meaning behind each song can come as a surprise to many. 
Crazy Train by Ozzy Osbourne 
Ozzy is one of the best and well known rock artists of all time. 'Crazy Train' is an example of his eccentric work. The song begins with a scream that pulls the listener into his unique style of music. Following is a guitar theme that will replay in your head for hours after hearing the song. This is an iconic song that everyone knows, but many don't know the deeper meaning. The meaning isn't exactly clear, but what I think Ozzy was trying to put out was the idea of how messed up the world is. There are lines in the song such as "Crazy, I just can't bear I'm living with something that just isn't fair" that shows how life isn't fair. Oftentimes the world is controlled by evil, and doesn't give justice to those who deserve it. The song also shows that it's not too late to change the ways of living, but it focuses on the problems the world has. 
Immigrant Song by Led Zeppelin 
Led Zeppelin wrote many classics in which each has a deeper or unique meaning behind them. The 'Immigrant Song' was meant to be a comical song about the band's time on the road. Song writers Jimmy Page and Robert Plant related their travel to the Vikings and how they fought to gain land. Though it was meant to be humorous, their fans interpreted it differently, making it more serious than what it was intended to be. 
Welcome to the Jungle by Guns N' Roses
'Welcome to the Jungle' is very popular and is still used in movies such as "Jumanji". It's a loud heavy song that is interpreted differently by many. The meaning of this song has everything to do with the dark effects fame has on a person and what stars go through on their journey. Many artists compete to be at the top. It's a hit or miss when Pursuing the dreams of a rock star. In the great city of Los Angeles, many come from all over the world with the same goal; to be known. This song shows the reality of what one must do to be at the top. It's a fight against other bands, just as being in the jungle is the survival of the fittest. 
We will Rock You by Queen
This song is definitely a classic and is played during sporting games, movies, or even just as a hype song. It was written to fight for freedom and individuality. This song goes against what the Globalsoft company wanted and pushed the idea that Queen had to be unique and different. This song inspires many to embrace their differences and show their personalities. 
Highway to Hell by AC/DC
Beginning with an iconic guitar solo, 'Highway to Hell' is a very popular rock song. There isn't one meaning behind this classic, because it's interpreted differently by everyone. The most popular idea is that the song is based on AC/DC's life during tour and what it was like for the band. Angus Young often referred to the tours as traveling on a "highway to hell". 
Panama by Van Halen
'Panama' is a classic that will replay over and over in your head like a broken record. Eddie van Halen was one of the best guitar players of all time in the rock industry. He will always be remembered for his great talent. Panama is about a car that David Lee Roth, a song writer for the band, saw race in Los Vegas. It's also about a girl Roth met while he was in Vegas. It describes the relationship he had with her and the thrill of it all. 
Kickstart My Heart by Motley Crue
The meaning behind this classic rock song is left for the listener to decide. Listening to this song brings the vibrant idea of Fiery energy with the lyrics. The lyrics "kickstart my heart" point to the feeling of being high on life. It's the feeling of living your best life and having lots of adrenaline. There is, however, more of a twisted meaning behind this song. This was inspired by Nikki Six's drug overdose. He was considered dead but was later saved by paramedics. 
Hotel California by Eagles
This rock shaping song has a beach melody that grew fame in the late 70s. The goal of this song was to share the way people live in America. It shows the darkness behind the American Dream and how people are never satisfied with what they have. It's also about how selfish people can be and how many do anything for pleasure. 
Barracuda by Heart
'Barracuda' was written out of rage by Ann and Nancy Wilson. The song shows the harassment the two went through in the rock industry. They were humiliated by sexist recording studios. They wanted to show what women went through in this time and how their sex mad it harder for them to thrive. This song became one of Heart's most well known and famous songs. 
Dream On by Aerosmith
The soft guitar in the beginning mixed with the smooth lyrics adds to the soothing melody of the song. 'Dream On' is about pursuing one's dreams. It shows how people wish they could have what someone else has, but must continue to push their own dreams to be successful. Song writer Steven Tyler wants to share that you shouldn't give up on your dreams until you achieve your goal. 
Songs can be interpreted differently by everyone, and the artists often leave it up to the imagination of their fans to determine what it means to them. Other artists give the deeper meaning away to add awareness for something important to them. They may write a song to advocate change or present an idea. Music can be used in so many different ways to spread many different messages around the world. 
Leave a Comment
About the Contributor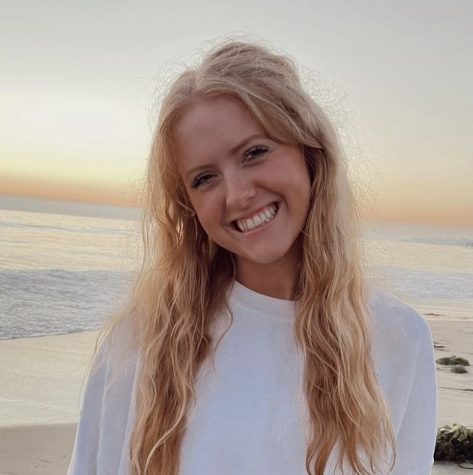 Ava Padelford, Co-Editor in Chief
Ava Grace Padely is a senior and it's her fourth year working for The Ridge Review; she's our extremely passionate Co-Editor in Chief and Primary S.M. Manager. She enjoys being creative in coming...