The Early History of the Macy's Day Parade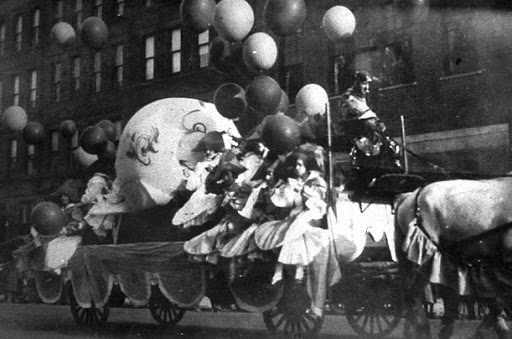 Have you ever thought about what the first Macy's Day Parade looked like? Have you ever thought about how the parade made its way through the Great Depression? If you said no, then these facts should give you a clear visual of what the original Macy's Day Parade looked liked.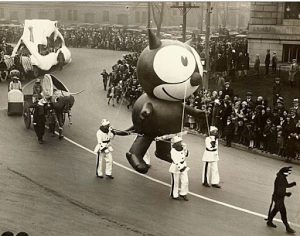 1924   
Today, millions of people gather in the streets of New York to watch the annual Macy's Day Parade. Back then it was just an advertisement for Macy's to raise profits during the Great Depression. The parade first took off on Christmas of 1924. Employees of Macy's dressed up as clowns, cowboys, and in other wacky costumes. They would travel with creative themed floats six miles from Herald Square to Harlem in Manhattan. The event attracted an audience of 250,000 people. The event was so popular that Macy's decided to make the parade an annual event. 
1927
In 1927, the event was even more popular, with an attendance of ~300,000 people. During this parade, the first balloon of Felix the Cat was debuted. This began the tradition of bringing large balloons of classic cartoon characters or movie characters. Before the use of balloons, employees of Macy's would only use handmade themed floats. 
1932-1951
During the 1930's the United States was in the Great Depression, but that didn't stop the Macy's traditional Parade. By 1933, over one million people attended the parade, crowding the streets.The annual parade was broadcasted on radio frequencies, increasing its popularity. By 1934, the first Mickey Mouse balloon was unveiled attracting disney cartoon fans. The radio broadcasts will continue from 1932-1951. Even when the Second World War broke out, the annual festivity was celebrated to alleviate stress, and to make people happy during the war. 
Balloons
What would the Macy's annual parade be without the balloons? Balloons were first introduced in 1927, with Felix the Cat as the first balloon. Luckily, this replaced live zoo animals on floats. Most of the balloons are produced by the Goodyear Tire and Rubber Company throughout 1928-1980. In 1928, large balloons were filled with helium. However they will slowly deflate during the duration of the parade. This sparked a mini competition for the people carrying the balloons. Balloon Races were conducted from 1928-1932. If a "contestant" was lucky enough to win a race, they would win $100 ($1,500 in today's value).
Originally intended as an advertisement, the Macy's Day Parade is one of the most popular parades in the United States every year it grows in popularity, attracting audiences either in person or on television all over the world. Even with COVID-19, the parade will still be celebrated, however it will only be presented live on television. Either way, we can all enjoy it.