Biden declares state of emergency in Texas amidst power outages with 69 deaths and counting
Texas is currently undergoing a historic disaster due to coast-to-coast blackout-causing winter storms. As climate change continues to bring more profound warnings of destruction, it has had a great effect on the welfare of residents in more than 4 separate states. Roads are at a crawl and glazed with ice, drinking water is inaccessible and one-third of oil production in the U.S. has halted. 
On February 17th, Colorado City mayor Tim Boyd sent out this post from his official Facebook account: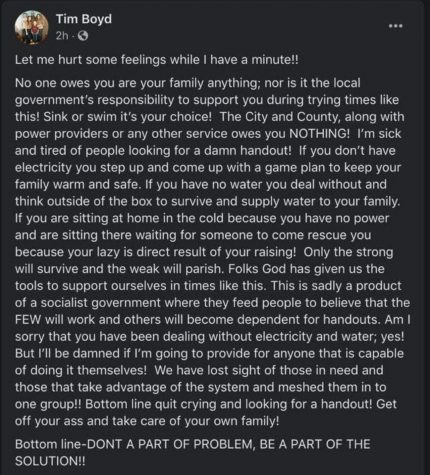 He spoke to his residents, all of whom desperate for power and heating, telling them to fend for themselves and that no one owes them anything. He said residents will "sink or swim" and "the weak will perish." The message was far from comforting and in light of extreme outrage; Boyd has since resigned from the mayoral office. 
This horror story continued over the weekend. As temperatures plummeted into the low teens, 11-year-old Cristian Pineda of Conroe, TX, died of suspected hypothermia. His family has since filed a $100 million lawsuit against the power company that failed to secure the safety of its customers. Also among the dead are Etenesh Mersha and her 7-year-old daughter who died of carbon monoxide poison, and Vietnam veteran Andy Anderson passed away from hypothermia, not even having access to his breathing machine which required a power source to operate. 
Last Monday in Sugar Land, TX, Jackie Pham Nguyen lost her mother and 3 young children in a house fire caused by the state-wide deep freeze. The morning prior, her mother braved the dangerous roads to escape her home where power had previously gone out; when the lights also went out that night at Nguyen's home, the family lit a fire to keep warm. They all went to bed around 10 p.m.. Only 4 hours later Nguyen awoke in a hospital bed to the news that her house had caught fire and that her family hadn't survived.
These 7 victims are only a fraction of the 69 suspected dead as a result of the storm. A full report of storm-related deaths is estimated to be available in 30 to 90 days.
All across the state, homes have been flooded and left irreparable. For those with insurance, this has been an inconvenience they can carry. For others without insurance, FEMA assistance has been granted by the federal government to reimburse locals who have lost their belongings and homes. Still, the damage may take months to recover from. 
Mirroring grocery store clear-outs in mid-March of 2020, shelves in Texas were once again wiped clean right before the storm. During his news conference on Sunday the 22nd, Texas governor Greg Abbott announced that any and all regulations delaying the supply of food and meal service would be lifted. As quickly as the weather permits, trucks are on their way to cities in Texas to restock shelves; restaurants will open back up to provide meals for those in need. 
One of the biggest challenges Texas residents are facing right now are heavy energy bills. Invoices are going out with bills that have increased from normal rates by hundreds, or even thousands of dollars. The governor is currently working to shield customers from receiving these invoices. The Public Utility Commission has already issued a moratorium on customer disconnections for nonpayment, but some are unsure that the government will follow through with their other plans and promises after their blatant neglect and assistance. Many are still without power and even more without safe drinking water.