Margie Giordano: A Former Student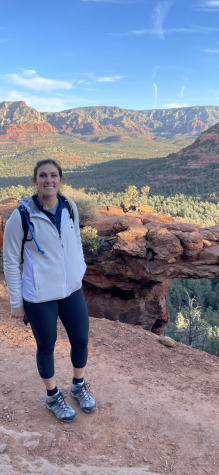 Sports culture is a dominating influence on our society today. Celebrity athletes are revered and idolized. One such athlete comes from Mountain Ridge, and her name is Margie Giordano. 
Giordano started playing volleyball when she was 11 years old as an Outside Hitter. At 13, Giordano began to play club and school volleyball year-round. 
As her love for the sport grew, so did her skill, and after playing for MRHS throughout high school, Giordano was accepted into ASU, where she played between 2005-2009. She eventually went all the way to Sweden, where she played from 2010-2018. She was 31 years old when she retired and decided to move back to Arizona.
Throughout her career, Giordano has been awarded for her dedication to her craft. In high school, she won the Gatorade Player of the Year and the Arizona Republic Player of the Year. During her time at ASU, she was given the Academic Athlete of the Month and earned her place in the 1000/1000 Club, which she was awarded because she is the eighth player in ASU's history to get 1000 kills and 1000 digs. While she was in the pro-league, Giordano won the Swedish Masters Champions 2012 and the Player of the Year 2012. 
Though Giordano has had loads of success, it all started small, with a word of confidence from one of her teachers.
"My PE teacher in elementary school told me I should try club volleyball; she thought I'd be good at it. I gave it a go and thought it was so much fun, probably because it came pretty natural to me," Giordano revealed. 
Though she had many memorable moments at Mountain Ridge, Giordano specifically remembers winning the State Championship with her team. That year, Giordano and her team only lost one game to a team they later beat in the championship.
"What I remember most about that season is we really worked as a team. It was a complete team effort. Although I was personally successful, my coaches and teammates made it possible," said Giordano. 
Unfortunately, living abroad has distanced Giordano from her teammates, but social media still allows her to connect with them online. They were a major part of her career, as were her coaches–specifically, Jon Devenney, who coached her during her time at Mountain Ridge. 
"Although I didn't have Jon Devenney as a teacher, he was my favorite male because he was my coach and we had a great coach/player relationship," said Giordano. 
After playing for ASU, Giordano moved to Sweden. For her, this was not only a huge step in her volleyball career, but it also introduced her to new experiences and perspectives. 
"It was great to experience a different culture. Even the climate was a huge difference. Never thought I'd appreciate Arizona's sun and heat, but I do more now," Giordano said. "Overall, it really made me appreciate the simple things in life and gave me the opportunity to find things outside of volleyball that make me happy."
Giordano received her Bachelor's degree in Travel and Tourism Management, and was employed for a cruise line, which she described as "loads of fun". Unfortunately, she doesn't have much of an opportunity to use her degree during the pandemic. 
"With Covid, it's not a busy field of work at the moment," Giordano lamented. 
Currently, she is studying to become a Certified Strength and Conditioning Specialist. Next fall, Giordano plans on going back to school to become an Occupational Therapist Assistant. 
However, Giordano isn't done with volleyball yet. During the summers, she travels around the US to coach volleyball camps, and hopes to convey to the girls that volleyball isn't just a sport–it's an experience that will help them grow in other aspects of their lives.
"Attitude is everything. Volleyball is a great tool to develop lifelong character traits. No one wants to be remembered as a lousy worker or a terrible teammate. In this world full of negative energy and self doubt, learn to identify negative emotions or energy, and channel your actions and words into positive ones. 
"It's okay to have bad days; hold yourself accountable and you'll only gain respect from those around you. People will want to play with you, coaches will want to coach you. With a positive, hard-working attitude, you'll find happiness in other aspects of your life as well," Giordano said.
About the Contributor
Caitlin Bailey, Journalist




Caitlin Bailey is a senior and it's her second year working for The Ridge Review; she's our go-to for global news. She enjoys writing and wants to help people become more informed about...