HOSA Students Awards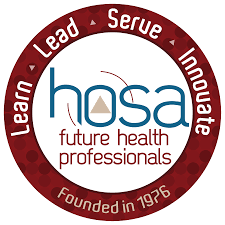 14 students here at Mountain Ridge High School have received a HOSA Bronze, Silver, Gold or Platinum chapter award in which they have qualified and will be able to attend the HOSA Virtual International Leadership Conference taking place in June. 
HOSA stands for: "Health Occupation Students of America," meaning that the students who participate in this organization plan to pursue health professions in their future and are preparing for that reality. At the conference that these students have been invited to, members will be drawing their attention to events focused on leadership, professional and technical skills. 
People who qualify for this rare opportunity must compete and go all the way to nationals with their partner. At the final conference of the year, students will be given the chance to experience general sessions, educational workshops, exhibits, and competitive events focusing on leadership. 
Only so many people are able to be a part of this program which is why it is such an honor to participate in the winning of the award. 
"I was super happy and quite shocked honestly," says first time competitor, Sneha Velaga. "I called my partner and she didn't believe it either until I sent her the video of our names being announced."
The specific levels awarded are given if the students follow the required variety of tasks including learning more about HOSA's history or by taking part in community service. HOSA's leader at Ridge, Kim Rodgers, is so proud to represent these students. 
"This is the third time in Ridge HOSA history that members have qualified for SLC and the second time students will be participating," said Rodgers.
We would like to give a congratulations to the following SLC winners who have qualified for HOSA virtual International Leadership Conference in June:
Himani Bhatt
Nicole Borodi
Emma Brownstein
Amisha Chokshi
Raafat Dallal
Sai Ananya Gandikota
Emily Ha
Olivia Malone 
Kendall Niva
Aastha Parikh
Taylor Raney 
Bhavagna Yellamraju
Sneha Velaga 
Keerthilakshmi Vengatragavan