Greta Van Fleet is New Wave 70's Music
If you fall under the category of  "a person born in the wrong generation (specifically the 70's)", well listen up! Greta Van Fleet is the band for you. Formed in 2012, the band still continues to make music and hold concerts throughout the world. With their recent "meme-moment" on SNL, their stardom surged once again, and they gathered many new listeners. 
The band members are Josh Kiszka, vocalist, Jake Kiska, guitarist, Sam Kiszka, bassist, and drummer, Danny Wagner. Jake and Josh happen to be twins, and their younger brother followed in their musical footsteps. The band is from central Michigan, Frankenmurth. Just 93 miles south of where the White Stripes (most famously known for Seven Nation Army) and The Romantics (What I Like About You) were formed years prior. 
On August 10, 2013, the group performed their first concert at DirtFest, along with 41 other bands. It took a while for them to truly blow up, but in 2017 that all changed. On April 21, 2017, they released their first album, "Black Smoke Rising" available only digitally, until later released physically on August 7, 2017.  The song "Highway Tune" topped Billboard Mainstream Rock charts in September 2017. Soon following, they released their second album, "From the Fires", on November 10, 2017, and their stardom flourished. They released their third album "Anthem of the Peaceful Army" on October 19, 2018 (which was their first studio album), and they recently released "The Battle at Garden's Gate" on April 16, 2021. 
When listening to Greta Van Fleet, you will feel like you've been teleported all the way back to the groovy 1970's. Josh has a voice indistinguishable similar to Robert Plant, lead singer of Led Zeppelin. It blows my mind how this band can paint a beautiful picture in the listeners mind.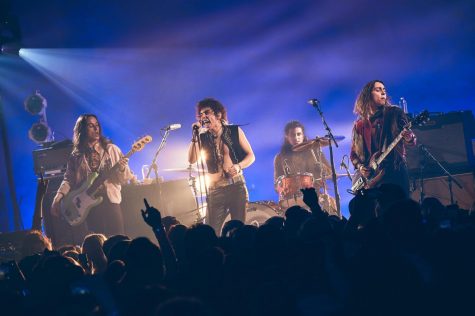 I've always wanted to go to a 1970's rock concert, and I thought it was just an impossible dream. But Greta Van Fleet changes the game. Since people have been getting their Covid Vaccines, Greta Van Fleet has a set concert list for the first time in 2 years. They perform at the Greek Theatre in Los Angeles on October 26, and 5,899 seats have already been bought. Only one seat remains.
So, reader, I leave you with this. If you have a love for 70's rock, you cannot miss this opportunity. Stream Greta Van Fleet on any platform and fall in love with the miraculous music they produce.