Wednesday Morning Prayer Circle
Mountain Ridge students gather around the junior lot to pray and have devotionals led by students every Wednesday at 6:45 am. It is an encouraging way to start the morning and a great way to meet loving people. 
When you arrive, there is always fun upbeat Christian music playing. Everyone gathers in a circle and in the middle are donuts, muffins and other delicious breakfast foods. It begins with an encouraging message from a student and they share whatever is on their heart. 
It's super cool to see students be bold in who they are. They may share about their personal experiences or just speak life into others around them. It's definitely a hard thing to do to get up in front of others and share something like this, but the group of people there is so loving and it's a judge free zone.
After the message, the student plays a song in relation to what they shared about. It's a great time to reflect on the words in the song and truly listen to the meaning as well. 
Austin Bast, one of the leaders within the group, loves meeting new people that he wouldn't normally see around school because they are in different grades and classes. He wants to encourage others to step up and be leaders as well. 
"It is super cool to see people stepping up and leading so my impact would be encouraging and helping others be bold and lead," Bast shared.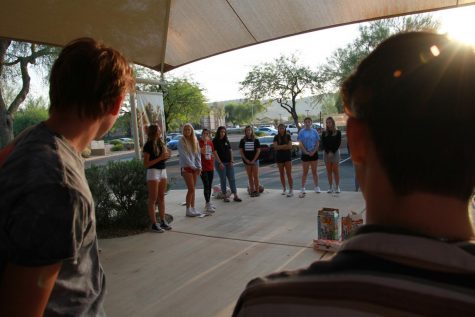 Sophomore Ellie Galligan explained that she loves to go for the great people there and the messages shared. She truly believes that our school needs more love and by pouring out into other students and truly caring about what they say, we can make the change. 
"It's so amazing to see pure hearts here at Mountain Ridge," she shared. 
Kaylee Myers, a junior at Mountain Ridge, loves to attend because of the community. She mentioned everyone's positive attitude and how she loves to be a part of it. Along with being a part of the group, she wants to be someone people can go to when they are struggling in life. 
"I want to make an impact on my pier and also my teachers," Myers said. 
All of the people in the group are very loving and open to anyone attending. It's a great way to begin the morning and meet amazing people.