MRHS Alumni In the State Press: Aden Schulze-Miller
Aden Schulze-Miller, former Editor-In-Chief at Ridge, is now a freshman at ASU and is doing big things for his career. 
Schulze-Miller goes to school for journalism and has been given many unique opportunities to become a broadcaster or a professor. He is currently in the Barrett Honors college program and is in the Blaze Radio program and is an undergrad student in the Cronkite School of Journalism ASU offers to students. He does two radio shows in the staff and it plays throughout most hours of the day. Schulze-Miller is a part time reporter for the state press (technically not a part of ASU), covering community issues and how they relate to ASU students. 
He mentioned that "being in a Journalism school requires a lot of attention and energy, but it's really good for getting me engaged in the experience."
Schulze-Miller shared that the school's Journalism program is pretty difficult but in other ways is also pretty laid back.  The Cronkite School, ASU's journalism program, is one of the best journalism schools in the country, so they take it very seriously.
Being attentive and working hard is key to success in college. Schulze-Miller spends a lot of his time making sure he puts his best in all of his work. He is proud of how much he has gotten involved so far this semester. He shared that most freshmen typically take the first semester to take it easy and get familiar with the school. Schulze-Miller, however, took this opportunity to get plugged into the school's program and do everything he can to enhance his future career. 
"There are a lot of things I don't have access to yet, but I have gotten to take a look at them so I'm excited for what the future holds," he said.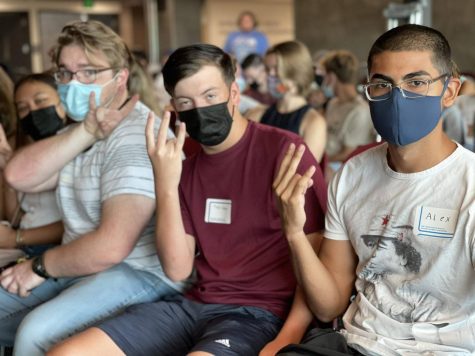 As the Editor-In-Chief for Ridge's Newspaper, Schulze-Miller was able to take in experience for the professional world. The state press is a little bit more of a start-up newspaper (not the same as New York Times or Arizona Republic), so he came in knowing everything he should about a news company. 
"Yes I was prepared in the ways working on the high school newspaper could prepare me," he said. 
Schulze-Miller strives to get his PHD and is either going to be a professor in journalism or will be working in broadcast journalism in some news organization.
Schulze-Miller finished by stating "A lot of people think being in Newspaper is boring or is like a dying profession. In reality, there are boring work-courses to it that aren't bad, but it is a very much a live part of democracy and society that will always need more people. If you're serious about it, go to this school. It opens up multiple career paths."