Varsity Football: A Mid-Season Analysis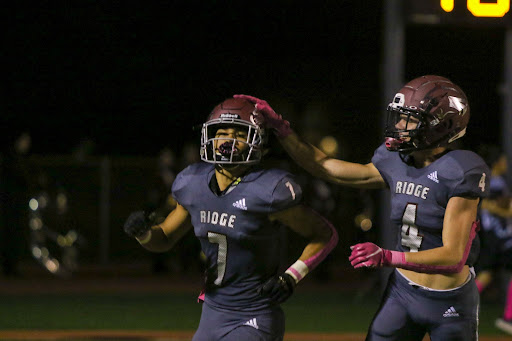 With the onset of the mid-season mark for football, there are a lot of things to look back on and many more to look forward to in the future. Coach McEowen sat down to talk about the Varsity Football team and their season so far, including some of the goals that the team has. 
Though the team has had a strong season so far with a 4-1 start, neither McEowen or his team is going to settle for complacency. After all, complacency doesn't win a conference or a state championship, and McEowen is aiming at breaking the 15+ year unlucky streak where Ridge hasn't won a regional title. 
In order to do this, McEowen explained, the team needs "to fine tune our offense and running game as well as work on containing long pass routes and creating turnovers on defense."
The goals for the team this year included winning the region and making it to the 6A state championship. These goals haven't changed, rather, they "just became more realistic," according to McEowen. At this rate, the team has a very real chance of completing their goals. 
Every team has their strengths and weaknesses, and for Ridge, chemistry and focus are key. 
"The strength of this team is the camaraderie. These kids want to work hard and give everything for one another. They never let each other get too high or too low until the job is finished," McEowen said. "The weakness of this team sometimes is our focus. When we play teams who are low caliber sometimes we have a tendency to look ahead to future opponents. We as coaches try to keep these kids focused on one week at a time." 
Another part of focus is pushing through adversity, something McEowen believes the team is beginning to get the hang of. The team has faced off not only against challenging teams like Liberty and Centennial, but the boys have also had to face skeptics concerning the team's ability to make it to playoffs. 
"This team feeds on disrespect," McEowen noted, referring to the lack of respect the team gets from both their opponents and disbelievers at Ridge. "At one point this season the team decided to take the hate and disregard for this football program and began using it as fuel for the fire." 
Coach McEowen points out some players who have made a difference in the season thus far. As for offense, the players that have stood out are Terrance Hall, Brendan Anderson, Rahim Bagely, Alex Doost, and Alexis Sanchez. On defense, Saxon Davison, Hayden Allen, Aiden Donovan, Christian Aguilar, and Evy Gavriilidis are noteworthy. Lastly, as for special teams, McEowen points out Alex Velasco. 
For more on these standout players, there are some stats below. 
Stats (as of 10/6)
Braeden Lacombe sits atop the special teams board, staying perfect in field goals (2) and extra points (28). His 28 extra points are tied for 2nd in the 6A. 
Terrance Hall leads the conference in receiving yards (382), scoring (48 points), and touchdowns (8). His receiving yards are good for 9th in 6A and his touchdowns are tied for 3rd in 6A. 
Brendan Anderson is 1st in the 6A Southwest division and 6th in 6A for passing yards with 951. 
Ryan Finch is 4th in 6A Southwest in rushing at 281 yards. 
Jason Kirkland is tied for 2nd in the 6A Southwest conference with 4 sacks. 
Hayden Allen and Aiden Donovan are tied for 6A Southwest conference lead with 2 interceptions each.