Best Concert Ever: Tame Impala
Tame Impala, an Australian Psychedelic Indie-Rock band came to Good Ol' Phoenix, Arizona on Saturday, September 18th. As soon as I saw tickets on sale in May, I bought them immediately, and anticipated the wait. It was my first concert so my nerves were all over the place. 
To fully understand this event, you have to know Tame Impala first. The "band" is really just one guy, Kevin Parker. He was born in Sydney, Australia, on January 20, 1986. Growing up, his father, Jerry, played lots of instruments that inspired him at a very impressionable age. In 2010, Parker released their first album InnerSpeaker, which debuted with 11 songs.  2 years later, they released Lonerism, which is my personal favorite. Then in 2015, he released Currents, his most popular album. After 5 long dreadful years, they released his newest album The Slow Rush. It was released in February 2020, pre-COVID era. Due to the pandemic, he couldn't go on tour, which broke many hearts. But with protocols getting better, they booked a tour and fans flipped (by fans, I mean myself).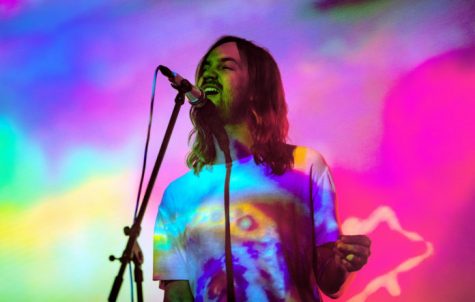 For those who don't know, Tame Impala has one of the best light shows at their concerts. You feel like you're being transported to another planet in a different universe. The tour was called Slow Rush and based it off of a mock pharmaceutical that leads to hallucinations. Very creative Kevin. The first thing the crowd sees is a doctor explaining the effects of Rushium, the mock pharmaceutical. As she wraps up, her face starts to distort into different colors, shapes, and it makes you feel like you're in the matrix. The crowd goes wild as we wait for Kevin to grace us with his presence. The backdrop turns into a kaleidoscope of sorts, flashing different shapes and colors. The crowd sees Kevin emerge from Stage Left and an array of screams erupts. He played all the songs from Slow Rush and threw in some oldies that everyone loves. 
There were a few Mountain Ridge students that also attended the concert. Lindsey Wong, 12, said that she "was most excited for the lights and pretty colors," and her highlight of the evening was "singing to my favorite song of his." Needless to say, she definitely enjoyed the show! 
Ellie Morgan, 11, also attended the concert. I spotted Morgan in the crowd and we frantically waved at each other and shared a laugh. She told me that she "was most excited for the lights and for her favorite song to play." Everybody loved the lights, some were even hypnotized. 
"The best part of the night was when Kevin came back for the encore and everyone got hyped for The Less I Know The Better (a very popular song)," Ellie said.  
At one point Parker told the crowd that he was sorry for never coming to Arizona in the 10 years the band has been around, and he was so shocked at how high energy Phoenix had. He said we were the best crowd he's seen on his tour and guaranteed that he will return. 
Next time you get the opportunity to see Tame Impala live, YOU DO NOT WANT TO MISS IT. Even if you don't know all the songs, or any songs for that matter, it's an experience you don't want to miss.
I took my parents with me, and my dad reluctantly came, despite his own wishes. He didn't expect much, only heard a few of their songs. By the end of the concert, he was in love! He now listens to Tame Impala when he heads to work, when he does yardwork, and even cleaning the house. Tame Impala concerts will change your life!