Too Old to Trick or Treat?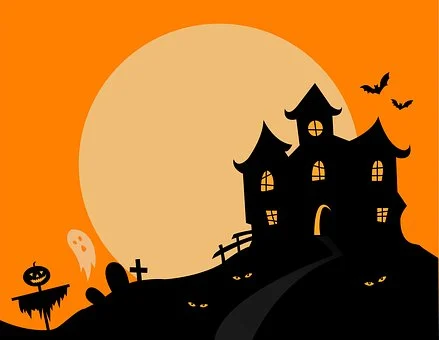 Years have been spent in our adolescence slugging around pillowcases of sweet treasure come the last day of October. In our naive days, we never could have imagined a day where this fall practice would come to an end; it always simply seemed like a promise once the month of October had begun. 
Now without that lens of blissful ignorance, and with years stacked on, trick-or-treating, like we had done for as many years as we can remember, isn't an acceptable routine. As high schoolers who are desperate to celebrate this holiday, but are without the token event of the night, let's brew some other ideas that might make this haunting night full of frightful fun.
Throw a Boo Bash: When Halloween night is here, it doesn't mean you have to exempt yourself from the festivities if you aren't making the rounds trick-or-treating. Now that you have aged out of the elementary fun, keeping the best parts of the youthful days in this bash can make it so you don't skip out on the memories you have gathered over the years.
Decorations that are trivial to the season add a sensational touch to the party. Some inspiration of ghostly cutouts, pumpkin blowups, or skeletons will make your guests know they're at the right haunted house on the day of the Halloween party. Once they make the terrifying trek up the driveway and walk in the front door, the food should also pay the same horrifying effect as the night upholds. From vampire cupcakes of red frosting, frosting covered pretzels as fingers, and crescent wrapped hotdogs that replicate a mummy, there are countless ways to creep out your guests with the culinary creeps.
It truly wouldn't be a Halloween party without requiring that all attendees flaunt their best costumes in honor of the day. Invite all your friends over and have a costume fashion show. If you are truly feeling it, you could vote on the best costumes of the night so the guests are motivated to go all out for this event.
Carve Pumpkins: In addition to creative costume parties, celebrating Halloween can be fun through seasonal pumpkin carving. You and your friends can make the ceremonial trip to your local grocery store and purchase the most promising pumpkin of the group, or make a day of it and head to a pumpkin patch in cooler weather. Once you have the best squash of the patch, you and your gang can blast the tunes of the holiday and get to work on your masterpiece.
From scary faces of vampires, zombies, and ghosts to Disney characters, a carving project's limits are endless and a fun way to spice up Halloween day and truly feel the fun of the day. A messy project it may be, but once a candle burns within it as the sun hugs the horizon and a night of haunting starts, all prior notions cease. The little kids who get to smile or scream (depending on the pumpkin you come up with) will thank you for using your day for their benefit.
Watch Scary Movies: What defines this season more than willingly scaring ourselves in the name of entertainment? A staple of Halloween celebrations is gathering your friends or family, turning off all the lights, wrapping yourself in a protective barrier in the form of a blanket, and binging frightening flicks. 
With the vast variety of choices, any sort of horror film can be viewed. Some of the classics would include Scream, Friday the 13th, or Frankenstein. These will make you double check if you locked your doors and want your mom to break out the night light you had recently given up. 
If the scary thrill isn't your exact taste but you want to soak up the night in movies, there are plenty of easier and feel good movies out there. Some that are hits with all kinds of audiences could include Nightmare Before Christmas, Hocus Pocus, and Ghost Busters. These screenings can be turned on while trick or treaters visit your house and can add to the excitement of the night and make a stellar evening.
Give Out Candy: All those years ago when you'd run up to a house blanched in orange lights and spider webs, ring the doorbell, and await an answer with your pillowcase wide open and a smile on your face. Waiting to mutter the infamous words of the night, someone answers the door and makes your evening with the best candy.
Now that you have aged out of the latter role in the night of trick-or-treating, you can give your parents a year off and take on the sacred role. Being closer in age to the youth, you can select the candy that will cater to the sweet tooth of those ringing your doorbell.
This can be a whole experience, you can play some Halloween music and set up lawn chairs in your yard, awaiting the kiddos that dare to venture up your driveway. Maybe you could even be in the role of scaring the kids, as this is possibly the only day of the year that it is socially acceptable to get away with this.
Just because you have aged out, doesn't mean you can't experience the day as you should dress up in this process to appease all the little children who see you. And if you are willing, you can even snack on the candy next to you and almost imagine you're back in the little shoes before you.
Go to Fear Farm: Another way to knock your socks off on Halloween day, is to take a trip down to Fear Farm. Open from 7pm-12am there is plenty of time to get scared and feel the tone of the day. The four houses this year are truly bringing the horror as they consist of Slaughterhouse, Dead in the Water, Nuketown, and the Sinister Circus where you're sure to be scared.
The fee of $35 is worth an eventful night to pump adrenaline and help you overcome fears. This is a more grownup experience compared to trick-or-treating, which might make you miss the pee wee version of scary, but this has to give you some street credit, right? See your limits and if you can survive a night of zombies, skeletons, pirates, and clowns (the worst in my opinion).
Even if you aren't trick-or-treating this year, these ways are another avenue for you to land some fun this season. Don't trick yourself that now that you have graduated from your middle school dress up that you can't have a good time on the 31st; rather treat yourself to a night of fun that will be acceptable now that you rock high school status.