"Sing 2"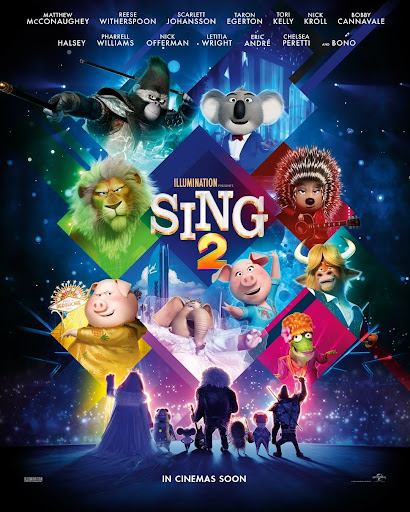 If you loved the movie "Sing", then the second one will have you absolutely blown away. It can be hard to beat a great first movie with a sequel, but I think "Sing 2" nailed it. 
The movie is full of bright colors, eye-catching scenes and amazing music. The main characters work to put on an extraordinary show and it just blew me away! I felt as though the audience within the movie was just as impressed as I was. 
The movie was filled with beautiful moments that actually made me tear up. Director Garth Jennings did an amazing job reaching the viewers on an emotional level and getting them to connect with the characters. 
The movie has many famous and well known stars such as Reese Witherspoon, Matthew McConaughey, Halsey, Scarlett Johansson, Tori Kelly, Taron Egerton, and so many other talented people. Each character is brought to life through these actors and actresses. 
"Sing 2" is a must see movie. It's  better than the first one in my opinion and had me dancing out of the theater at the end of it!