2022 Chorus Forum Festival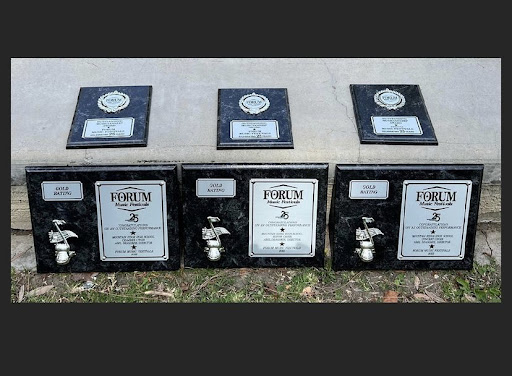 Congratulations to the ensembles of Honor Choir, Chamber Choir, and Concert Choir for receiving a gold rating at the 2022 Forum Festival in Fullerton, California. In addition, congratulations to Elisabeth Green for receiving the "Outstanding Musicianship" award for best soloist in the chamber choir. These groups have worked tremendously hard to achieve this rating and the work has now visibly paid off. 
Marisa Feore, the student president of honor choir, says that the choirs have achieved this goal because, "…the group hasn't focused on only [their] past accomplishments but also [their] future endeavors by coming together and trying [their] best to receive the rating [they] deserve". 
The choir director, Abel Dragomir, has dedicated hours of his time as well as after school rehearsals to ensure his students' gold rating. He incorporates positive thinking as well as good teaching and practice for their overall success in performance. The Mountain Ridge Choir also receives helpful lessons from outside musicians for a variety of opinions as to how to make their sound better. 
 "He wants his students to be able to perform to the best of their abilities and he knows that first hand experience is the best way… he creates an environment of work, confidence, and teamwork that makes the choirs here ready for every opportunity that comes our way," says honor choir student, Elisabeth Green. "Mr. Dragomir helped us to be ready for the Forum Festival by giving his all to his students."
We are so proud of the Mountain Ridge Choirs and every hard working aspect that they put into this jutting rating!