Taco Guild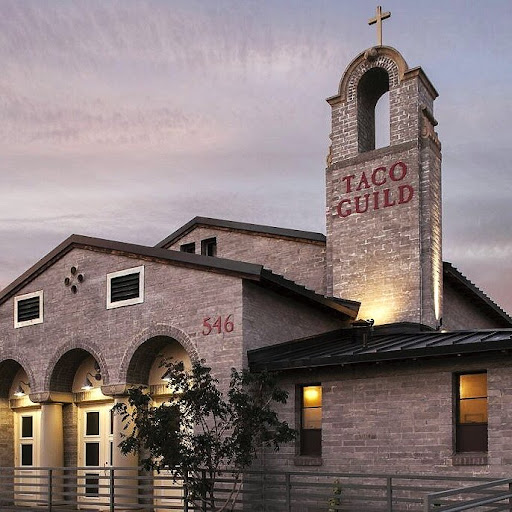 If you're tired of mundane, stereotypical restaurants, and want to find a place that really elevates the dining experience, then worry not. Tucked away in central Phoenix, The Taco Guild rests as a museum-type restaurant, full of incredible foods, drinks, and desserts. 
It's about a 30 minute drive from Ridge, and the location is incredibly unique. The restaurant is inside an old methodist church, constructed in 1893. It has huge glass-stained windows that draw your attention all across the room. Along the top of the walls, there are huge prints of medieval renaissance art, that truly encapsulates the vibe of the Taco Guild. 
Once you get settled down at your table, the menu is full of many delicious options for those who aren't too daring with their palate, and those willing to try new things and take risks. You get a bowl of chips and three different styles of salsa: a green, red, and orange, all with different spice levels. If the chips don't suffice, you can choose an option off the starter portion of the menu. Starters include fresh guacamole, green chile queso, quesadillas, angel wings covered in house strawberry sauce, and chicharrones. 
If you are looking for something more filling, look no further. The list of entrees has many options, something for everyone to enjoy. The Guild Bowl and Grilled Burrito allow you to pick your choice of protein: Chicken Tinga, Pork Carnitas, Chipotle Cherry Steak, Lamb, Coconut Shrimp, and Charred Cauliflower. Both entrees are full of protein and are well balanced meals. The Grilled Romaine Salad is an incredible blend of heirloom tomatoes, blue cheese, jalapeno bacon, and topped with a creamy cilantro sauce.
Just like in the name, Taco Guild is known for their life-changing tacos. All tacos are served with your choice of either corn or flour tortillas, or even lettuce cups. They have six different tacos to choose from. My waiter's personal favorite was the Chipotle Cherry Steak, which is blue cheese onion poblano and chipotle aioli sauce drizzled on top. I went with 3 tacos, the Coconut Shrimp, the Chicken Tinga, and the Street Style Carnita. The Coconut Shrimp taco was on the sweeter side, with the protein as a crusted tiger prawn, dressed with mango aioli sauce, topped with strawberry pico and pepitas. The Chicken Tinga was the more savory taco, with achiote chicken, cotija cheese, onions, cilantro, and pepita seeds. The most flavorful taco, in my opinion, was the Street Style Carnita, which included a 12 hour braised pork, cooked to perfection, topped with cilantro and onions, for a perfect combination.  It's impossible to pick a favorite taco, you will love them all the same; so you might as well try one of each!
Let's say you were still hungry after your entrees, the desert menu will definitely be calling your name. They have 2 options that stay on brand for their Mexican cuisine: Churros and Horchata Chocolate Cake. The Churros are house made, sprinkled with cinnamon sugar and served with Mexican hot chocolate sauce to dip. The Horchata Chocolate Cake is a chocolate cake, dressed with horchata cream, coconut, and cinnamon.
The Taco Guild is a must-see experience filled with an amazing atmosphere and incredibly unique menu. Perfect for a brunch, date night, or even a dinner for one. 
Address: 546 East Osborn Road
Hours: Sun-Thurs: 11am-10pm    Fri-Sat: 11am-11pm