Pat's Run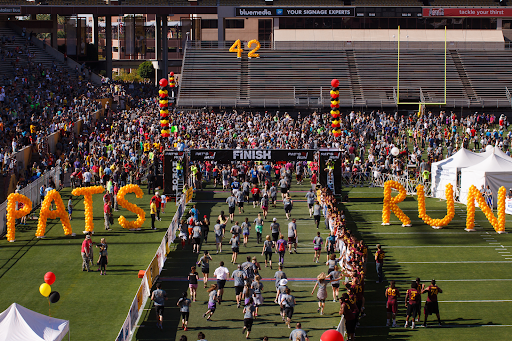 Pat Tillman put his national football career with the Arizona Cardinals on hold once he saw the pain from the aftermath of the terrorist attacks on 9/11. During the summer of 2002, Tillman and his younger brother Kevin, decided to enlist in the U.S Army. 
Rewinding back to his previous days, Pat played for his high school football team in San Jose, California, leading them to the Central Coast Division Football Championship with 31 of 68 of his team's touchdowns. 
Tillman's high school coach said that, "when Pat was asked about it after the championship game, he deflected the praise and said, 'All the credit should go to the great players on the Leland team.' Coach goes on to say, "That tells you all you need to know about Pat. He was a coach's dream." 
Forwarding into college, Tillman had a successful football career at ASU while playing and leading his team onto the field per game. During his junior season, Tillman anchored a dominant defense and team overall. With Tillman on the team, ASU football went on to win the Pacific 10 Conference championship and went to the Rose Bowl in the year of 1996 and came within minutes of a national championship.
His football career only furthered from there when he was drafted in 1998 into the Arizona Cardinals NFL team. 
It was after playing for the cardinals for three years that Tillman took a pause on his famous career to serve his country. Only two years after joining the Army Rangers, Tillman was devastatingly killed during combat, in the mountains of Afghanistan.
In honor of Pat Tillman and all that he stood for, some of Pat's best friends collectively made the decision to create something in his memory. 
Tammaro, a close friend, said that, "his legacy needed to be continued because he inspired so many." 
With that, the first Pat Run took place in Tempe Arizona just a year after his honorable death. 
Pat's Run is a 10k event that fundraises money for the Pat Tillman Foundation. This money is put in to support United States veterans and their spouses. 
People from all around Arizona, and the nation for that matter, join this honorable event in Pat's name to run or walk this 4.2 mile race. The exact 4.2 miles holds its significance through his famous jersey number while attending ASU, 42. It also ends at the 42 yard line in the ASU stadium while current ASU players reward the finishing runners/walkers with their presence. 
That starting year of the program in 2005 received a magnificent 5,000 participants. Nearly 12 years later, the event holds over 35,000 individuals! 
Edinger, another friend of Tillmans, said, "I really kind of had tears in my eyes. To see this many people honor my friend, you know, it was really unique." 
Pat Tillman goes on to receive recognition for his hard work, humbleness, and honorable sacrifice, annually. We thank him for his superhero story through Pat's Run and his great legacy.