Student Spotlight: Ellie Morgan
Ellie Morgan, Mountain Ridge senior, is a dedicated student in her AP courses, and involved in a multitude of clubs, like StuGo, NHS, and SOFS. Amongst her involvement in academics, Morgan started her own small jewelry business, Ellie Hart Co., in 2018 when she first got her LLC and opened an Etsy shop in 2020. 
"I had made jewelry or some sorts of crafts my whole life so I wanted to start selling it to people nationally," Morgan said. 
The self-titled company takes a lot of hard work, but Morgan has been able to find a balance between the creating quality products and her schedule.  
"I try to dedicate some parts of my day to working on it, and take breaks if I'm feeling overwhelmed by school," said the entrepreneur. "For instance, I took October off since I was working on college applications." 
Even as a full time student, Morgan emphasizes the importance of pursuing your passions at a young age.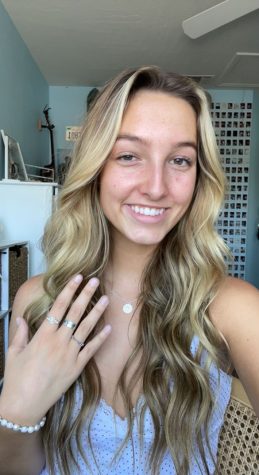 "Other teenagers that want to start their own businesses, just go for it! Starting is the hardest part," Morgan commented.
Planning on majoring in business, Morgan hopes to become a social entrepreneur, using her business and designs to create environmental change.
Morgan has partnered with One Tree Planted, an organization that plants one tree with every dollar donated from the 275 sales she's made so far. While many teens are littering parking lots with red Solo cups, Morgan is raising awareness for environmental solutions in her own community.
"I chose One Tree Planted because it's a reliable organization that has made huge impacts globally," Morgan said. "They have a simple mission plan that makes it easy for customers to understand and enjoy the effects of their order."
"There are times of rush, plenty of orders, website visits, likes and views, and times where it is the exact opposite," she mentioned. "Sometimes there is nothing you can do but keep persevering and disassociate from the stats. If I place my success and emotions on the numbers, I would be unstable."
Her primary inspiration comes from Pinterest, or just walking down the isles of craft stores, like Joanne's. Ellie Hart Co.'s most popular jewelry changes with the trends and the seasons. 
"In the spring, my wire and metal rings were big. But in the summer, my anklets popped off," Morgan said. 
As the small business owner looks beyond twisted metal and sea glass, Morgan's ultimate goal is to bring her visions to life as concrete items, and to see her customers enjoy wearing her delicate works of art.