Flower Child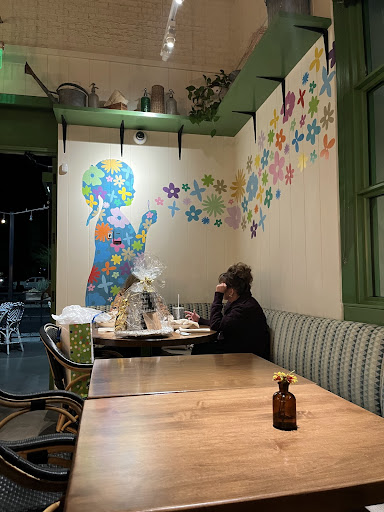 Near the bustling area of Desert Ridge, there the cutest restaurant rests: Flower Child! It's a great restaurant for those who want a well-balanced nutritious meal, while also enjoying a very chill atmosphere. With well priced menu items, Flower Child is worth the visit!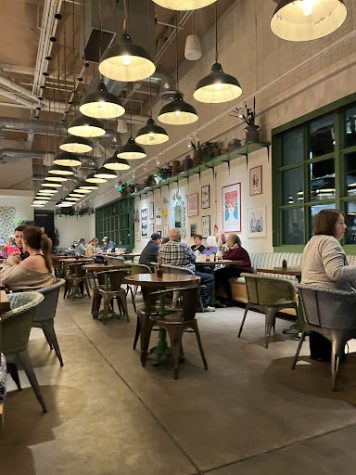 Once you step into Flower Child, a sense of serenity and peace surges over you. The interior is full of light, hand painted artwork of flowers and peace signs
scatter the walls, and unique and out of ordinary decor and art prints are framed on the back wall.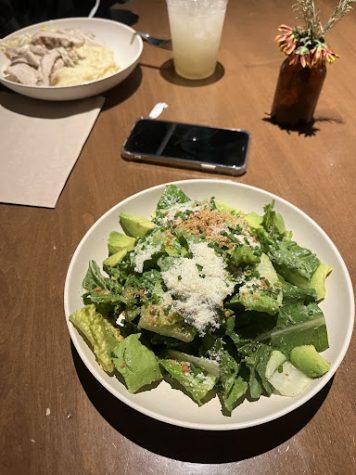 Flower Child provides so many options for indulging in food that's actually going to benefit your body! If you're craving greens, I highly recommend their salads. My go-to is the Avocado Caesar Salad. The fresh romaine base, topped with parmesan cheese, bread crumbs, chives, slices of avocado, with avocado caesar dressing drizzled over top. This honestly doesn't taste like a traditional Caesar salad, and I'm not complaining! The salad has the perfect blend of crunch, cheese, and a hint of lemon. Not even a crumb was left on my plate. If you're not feeling like the Avocado Caesar, you could also choose from the Ginger Miso Crunch, Turkey and Avocado Cobb, Chopped Vegetable, or the Brussel Sprouts & Organic Kale. For all salads, you can expect to pay roughly $10, price varies by choice of salad.
At all of their locations, they offer seven options for bowls! Their year round bowls are about $11, and their seasonal bowls tend to be around $15. The two most popular bowls are the Glow Bowl and The Mother Earth. The Glow Bowl has the base of a sweet and spicy potato noodle, smeared with bok choy, zucchini, onion, jalapeno, shiitake mushrooms, coconut milk and sunflower butter, which creates the perfect blend of sweet, spicy, salty, and savory. The Mother Earth is packed full of greens, like ancient grains, sweet potato, portobello mushroom, avocado, cucumber, broccoli pesto, charred onion. Leafy greens, red pepper miso dressing and sprinkled with hemp seeds. The bowls are a great option for those looking for a balanced meal.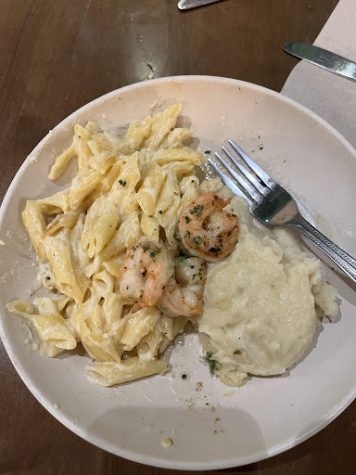 Flower Child's entrees absolutely blew me away. To start, you choose from any of their protein options, which consist of chicken, steak (served medium), salmon, shrimp, tofu, or three vegetable sides. Then you pick your two sides to put on the plate. The sides includes butternut squash 'Risotto', smashed gold potatoes, organic brown rice, red chile glazed sweet potatoes, gluten-free mac and cheese, sweet corn quinoa, Yuzu brussel sprouts, roasted broccoli, or pineapples, mandarin oranges and organic red grapes. My order consisted of shrimp, smashed gold potatoes and mac and cheese, and costed me $15.50. As soon as they set the plate down in front of me, my mouth was watering. I took a bite of the shrimp first and I felt my heart melt. It had such a hearty texture with buttery flavors that just burst in my mouth. I then moved on to the mac and cheese and it put a huge smile on my face. The blend of white cheddar and parmesan will make any cheese fan's dreams come true. The smashed gold potatoes were sent straight from heaven. The flavors of roasted garlic and thyme bring back a sort of serotonin for me, reminding me of my grandmother's home-cooked mashed potatoes. The three of those combined made the perfect holy trinity of food.
My favorite thing to drink at Flower Child is their seasonal lemonade and tea! The lemonade is perfectly tart and the tea is sweet, complementing each other harmoniously. A cup of their tea or lemonade cost $3.50, perfectly priced in my opinion. The flavors change seasonally so I aim to go once a month to try all their exclusive flavors. If you're over the age of 21, they do offer wine and sangria. 
If you're throwing a party or large gathering, good news! Flower Child offers catering! Nourish A Tribe Package contains either chicken or tofu, a large salad, and three sides for $139. The Bountiful Bowls provides you with two large bowls with avocado or hummus with veggies and pita, for $144. The Gatherer, valued at $144, comes with one large salad, 5 sides, and either avocado or hummus with veggies. The Get Together Package, $159, includes steak or salmon, a large salad, and three sides. The Grateful Spread comes with six wraps, one large salad, and hummus with veggies, for $144.
The closest location to Ridge is located at Desert Ridge off Tatum Boulevard and the 101. They are open everyday from 11 am to 9 pm. I really hope you decide to stop by and check it out. You will never regret it and get hooked!