Talia Nelson gives a striking performance at a Mountain Ridge Girls flag football game on Sept. 27th, 2023.
Girls flag football has won four out of five games and last night they won with a score of 16-0! Their opponent was Boulder Creek High School.
When asked about her strengths, Talia stated, "My personal strength is that I'm adaptable, so it helps me to learn the plays."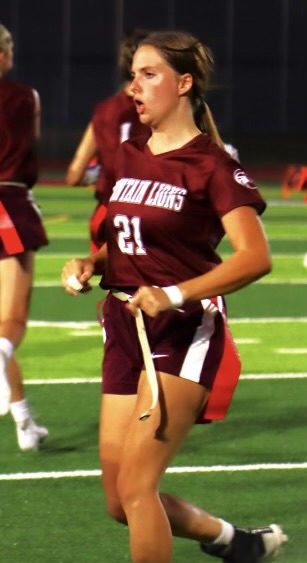 Talia believes that the toughest thing about playing a sport a Mountain Ridge is "the heat, at least for fall and Spring sports." Which is definitely true. The heat at outdoor games right now is dreadful. Although, it's been cooling down little by little recently, so it shouldn't be as much of a problem.
Talia likes playing flag football because, she states "I like being competitive and the team is a lot of fun." Being on a team is fun! In sports, when people are on a team, the team is like an extended family, and they hype each other up whenever needed.
Talia declares that if there is anybody she looks up to in athletics, it would be the team's rusher and receiver, Ellie Cardiff because of how hard she works. Hard work has always been important in sports, or anything really. Whenever someone is in a sport, or production, or just doing plain old homework, it always takes work, and though it may be stressful at times, hard work can get them to where they want to be.
Talia expressed that, while being on a team, she learned that they have to own up for their mistakes and play for everyone, not just themselves. When people are on a team they're not just doing things for themselves, they have to help the team in order to win the games. After all, teamwork does make the dream work, and everything is cool when you're part of a team.
Finally, when asked if there was any advice she could give out, she said,  "The only advice I can give is that regardless of how hard things get, or how embarrassed you are, you just kind of have to push through till you make it."
Even though sports can be difficult, and sometimes stressful, that's also a factor of life. So if that's stopping someone from going out for a team, don't let it! Here at Mountain Ridge, there are many amazing sports programs, and flag football is just one of them!
The next away game on Oct. 17th should be just as spectacular as the last one! Talia Nelson is only one of the extraordinary brightly shining stars that go to school here at Mountain Ridge. Good luck girls!