Charting the Path to Congress-Dr. Hiral Tipirneni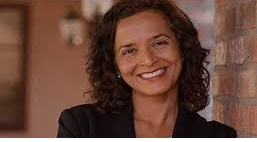 It is always inspiring when someone steps up to a formidable challenge that has a significant impact on our day to day lives, and it is even more exciting when that person is one of our very own!
A physician, cancer research advocate, and member of the board of directors of the Maricopa Health Foundation, Dr. Hiral Tipirneni has served the Phoenix area for more than 20 years and dedicated her life to helping others. An inspiration to many, she recently took the leap to run for the U.S. House in Arizona's 8th Congressional District as a Democrat, to solve the many issues that concern the state.
I was fortunate to spend some time with Dr. Tipirneni to chat about the background for her decision, her goals and challenges, and her advice to students. Wishing her much success on her journey, with the collective energy and support of our community behind her…
What do you want to see as an outcome of your campaign?
I want to bring voice to a large district that has for a long time been unrepresented or underrepresented by current representatives on a host of key issues that impact the constituents. Also, I believe there should be no race where anyone runs unopposed, because the positions of being in Congress should be earned by people of proven track record or those showing that they are in it for the right reasons. This also engages all the voters in the political process, who then believe that they have another choice, learn more about the issues, and recognize the value of their vote.
What do you see as your greatest challenge, especially running against a Republican in a Republican state?
Name recognition is an issue, because I'm a new face in politics. For that though, it's a matter of me going to talk to the various constituents and getting a chance to meet with the voters.
People have a foregone conclusion that because the district I'm running in is Republican there's no way I can win, but there definitely is a path to victory, and I have to voice that to the voters and convince them to have faith in the race. People also tend to make assumptions when they see a woman running, and doubt my abilities, but, I am up for the challenge and think it's absolutely doable!
What impact did the 2016 elections have on you and your decision to run?
It had a huge impact. I knew that a lot of critical issues that we care about would be vulnerable, including healthcare. That was a huge motivation for me and I thought, "What do I do now knowing the challenges we're going to face?" I wanted to make a difference, and it prompted an internal dialogue where I considered my options – to be just more active in politics, or run for office and do something bigger. Then, I took the next step of taking the Emerge Arizona training program which provides a unique opportunity for dynamic Democratic women to gain the skills and training needed to prepare to run for public office.
How did you finally decide that this is what you wanted to do?
There's a skill set that I possess that's very valuable for informing policy – as a physician, as a person of science, and being in advocacy, I've always listened to people's problems, working on non-partisan teams and coming up with analytical, evidence based solutions. But, it didn't seem like issues and policies were being addressed that way currently. We need more diverse voices at the table because there isn't a lot of diversity in our current politicians, and that certainly doesn't represent the people. Then, the support and encouragement I received from my family helped propel me into the race.
How did you feel going into this as a minority?
Arizona has a large Hispanic community and growing Asian population. People are realizing the value of diverse voices. Some people did doubt me initially, saying that I was already at a disadvantage being a woman, and of color, but that only made me more determined. People do have a lot of preconceived notions, but once we have the dialog, we realize that we're really quite similar, and what we have in common is much more than what divides us. We all share the same issues, and our race does not differentiate us. Also, I see being a woman in this race as an advantage, because, women tend to be problem-solving, very collaborative, solution-oriented, and less partisan.
How are you managing this hectic campaign with your family and career life?
I took a leave from work because this is a full-time job. As far as family goes, our two oldest girls are living on their own in college, and our youngest son can drive and is also self-sufficient for the most part. Still, it's a little tricky and requires balancing. There are a lot of nights where I'm out campaigning and I have to miss my family dinners, but my family is very supportive and we fit in quality time whenever we can. I also love that they come to support my campaign events and folks get a chance to meet them. This helps people connect with me personally and makes me more relatable to their lives.
What advice do you have for students regarding politics?
Be informed about the issues. Realize that every aspect of your life is affected by politics in some way – be it schools, taxes, your neighborhood, climate change, health insurance. These issues are important to kids your age because they will affect you later on. Be engaged and involved. If you have an issue, call or write letters to your Congressman or Congresswoman. Remember that you also have a huge impact on your parents, so get them invested as well. You all have some great ideas and it would serve us well to listen to your voices. Keep us honest and call us out if we are not consistent or keeping our promises.
This article was originally published in the November 2017 edition of AZ India Times.