Rally with Ridge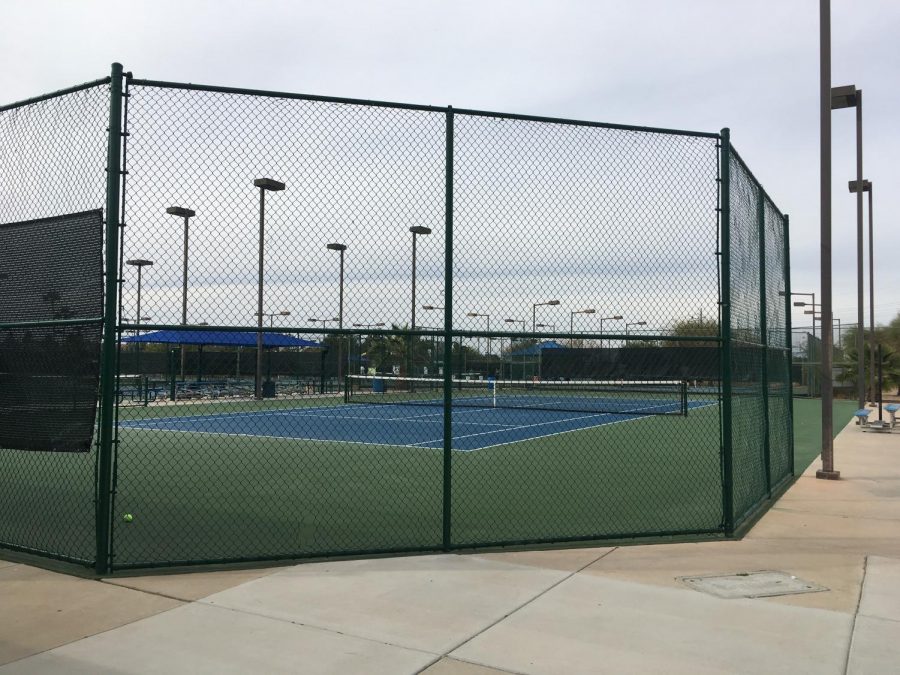 The Mountain Ridge boys and girls tennis team is a few games into their 2018 spring season. Both teams have very high hopes for this season and are working hard for improvement.
Boy's Tennis
 The boys tennis team is working hard to improve their record, with a starting score of 2 wins and 3 losses, the boys are led by Coach Singleton. Singleton is looking forward to watching the boys have fun and play well.
  "If we win, great! But if we don't, as long as their having fun and they're learning, that's all that's important," Singleton says.
     This year's team is very similar to last season's team. Singleton says that the two teams have very similar structures, as far as the players on both teams.
 Singleton says that the boys are a great bunch of kids who get along very well together, and have lots of fun in both games and practice. The boys varsity team is led by number one, Jared Erwin, the only senior on the team. The rest of the varsity team contains juniors and sophomores.
  "The varsity team is pretty good. The goal I've set for this year is to win our section, and were 1-0 in sections, so far. I think we have a really good shot to do that," Singleton says. "We're building for the future."
  The JV team contains lots of freshman. JV is doing very well, so far, they have won four out of the five matches they've had so far.
  "Again, a great group of kids, and lots of fun to be out on the court with," Singleton says.
Singleton's main goal for this season, is to win the section and to win state playoffs.
Girl's Tennis
  The girls teams also striving to improve their record, with the same starting score of 2 wins and 3 losses. The girls are led by Coach Kangas, who has been coaching the girls tennis team for almost 10 years. Kangs says that this season's team is very young, the team has lots of new tennis players and freshman.
  The team has come across a few bumps so far, according to Kangas. He hopes to improve doubles strategies, and other important playing skills. He says that the girls will be matched up very competitively at sections, but has high hopes for the team's success.
  The girl's varsity team consists of a variety of ages, including freshmen. Kangas says that they have lots of spirit and enthusiasm, and that they want to improve on a daily basis.
  Last season, the girls were led by their former number one varsity senior, Autum Prudhomme. Kangas says that she was a very great player, who was hard to replace. Now, the team has a brand new player in the varsity one position, freshman Neha Balamurgan. Kangas says that she is a very good player who understands her role as varsity one. He also says that she will find the trip down the road bumpy, but she will be successful and finish as a better player.
 The JV girls team consists of lots of returning players. Kangas says that they enjoy the game and have lots of fun. He likes the fact that the girls are close, and have developed friendships with one another. The girls strive for improvement from week to week, and Kangas is excited to see where they will be at the end of the season.
  Kangas says that because it is a very individual sport, there is lots of self improvement in the game of tennis. Kangas enjoys the games the team plays in practices, and he tries to make the practice drills competitive. He also loves the climate here at Mountain Ridge because the girls come to play with great attitudes.
  Kangas' goals for this season are to work hard to improve the team's skills and to reach the next level of playing.
  In their most recent match against O'Connor, both teams were victorious. The girls won 9-0 and the boys won 7-2. As the season progresses, we wish both teams luck in their section.
Neha Balamurgan
  Neha Balamurgan is a freshman who is starting her high school tennis career at the number one varsity position, with only three years of experience. Neha is a very talented tennis player. Neha is also very kind and encouraging to her fellow teammates, and she is very humble about receiving such a high position in just her first year of high school.
  "I would just say that this is my first year in [high school] tennis, and I have a lot of stuff to learn and I know that this year will have a lot of bumps in my road. But it's just a great start for high school tennis," Neha says.
  Neha has played lots of challenging players, most of them, two to three years older. She lost her first few matches, but her first win came from the match against O'Connor, last Thursday. On the path she is headed on, we can see that there will be many more victories coming her way.
  So far, Neha is enjoying being on the team, and likes the girls she gets to play with.
  "I think it's a great team, we've got a variety of players. There is a gap, there's a difference between how different people play because they have their own strengths," Neha says.
  Neha doesn't keep the focus on winning her matches. Instead, she keeps the focus on how well she felt that she played, and thinks about ways to improve the next time around.
  "I would say that more than winning every single game, my goal would be to have a satisfaction after every single game, that I played my best, and that I gave them a good fight. Even if I lost 0-6, it's okay if I have the satisfaction that I've played very well."
  Neha is sure to put up a good fight in every one of her matches. She does not like to give up, and she tries to give each match her best. She is an excellent new addition to the Mountain Ridge girl's tennis team, and has a very bright future.