Food Drive Results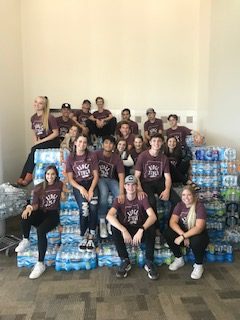 This year's food drive might be a distant memory for some students, but the impact on those less fortunate continues to be felt. Ridge collected over 60,000 cans and turned in a check for $6,600. Ridge ended up raising $2,600 more than last year and all of the proceeds from the Food Drive went to St. Mary's Food Bank.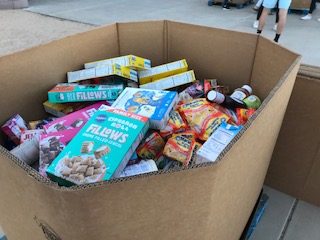 "All of those cans and money helps people that really need them during the holidays," said Doug Evans, Stugo adviser.
Even before Mr. Evans took over Stugo from Shawn Korman, Mountain Ridge students and staff have used both internal and external motivations to encourage bringing in food and money.  In the past few years a friendly rivalry with OC has encouraged students to bring in even more cans and gives the student body a goal to try and pass each year.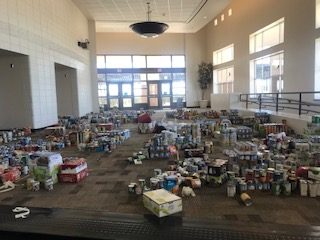 In addition to the OC rivalry, there are competitions with prizes awarded to the classes bringing in the most cans. The class with the most cans this year was Mr. Gurnius followed by Mrs. McElroy. The Food Drive is such an important thing to Mountain Ridge because it is Ridge's way of helping people in need and this whole idea of a food drive really is so helpful for all the people because of the amount each school brings in.
"We are going to keep doing what we have been doing, hopefully the OC thing will continue and that should help keep us motivated each year to top the previous year's totals," said Mr. Evans.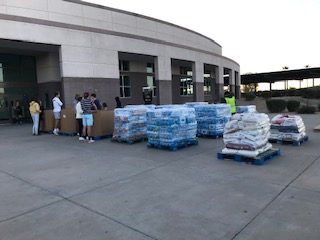 This year Ridge worked hard to become successful, Mr. Evans was very impressed with how many cans were being brought in and said that it was one of Ridge's most motivated years to bring in cans.
Mountain Ridge concluded another successful food drive, beating OC and earning the title for the high school that brings in the most food for the 14th time in the past 15 years. Congrats Ridge, let's keep it up next year.
Leave a Comment
About the Contributor
Kelsey Nahodil, Co-Editor in Chief
Kelsey is a senior, yet she's also our member of greatest seniority, with this being her fourth year working for The Ridge Review; she's our Co-Editor in Chief. She enjoys coaching volleyball,...