CTE Month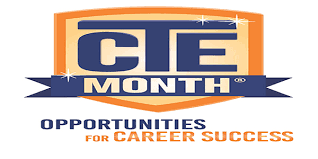 There are many different opportunities offered in the CTE program to help use knowledge to learn about the outside world rather than only learning what is required for graduation. It is a great way to express your future career choices, prepare you for leaving high school, and give you a headstart before going to college. This month is CTE month and people should know why CTE is very helpful in career choices.
CTE courses are some of the most beneficial classes for people who want to explore further into what they want to pursue after high school. It helps those who know the career path they want to take up or want to explore outside of just things being taught in your other classes. Getting to use knowledge outside of high school is what makes CTE classes very beneficial to all students at Mountain Ridge. CTE courses offered at Mountain Ridge include a variety of skills. These classes are very diverse and can range from anything from Digital Communications, to Biomedical Sciences, to marketing, to Engineering. By taking classes that offer various workplace skills, your understanding of a certain career will dramatically grow before the end of high school.
All courses can benefit kids before they head off to college. Digital Communication, for example, focuses on Journalism the most; for those who are interested in writing and may want to go into a Journalism profession in the future. Biomed is a good program because it's 4 years long and students are exposed to hundreds of careers. All the other courses in the CTE program focus on a certain career just like the Journalism course and can be taken through many years of high school. From freshman to senior year you can take a CTE course.
Not only does this help them prepare for the workforce that they want to go into, but some CTE courses also count as a dual enrollment class to get a college credit while still in high school. While not all are offered as dual enrollment, the ones that are, are taught by teachers at Mountain Ridge with community college certification. If a CTE course interests you, this would be a good way to apply academic knowledge to the real world with courses like Educators Rising which focus on those who want to go into the teaching workforce. They get to interact with students from different schools and sometimes teach lessons to classes at Mountain Ridge to prepare them for the future.
Many different teachers teach courses outside of classes they already teach. CTE courses satisfy the fine arts/CTE graduation requirement, and benefit those who want to jump straight into learning about a certain career path instead of taking a fine arts class like art, dance, theater, etc.
In the end CTE courses are very beneficial for those who would like to learn more about possible career opportunities in the future. It also helps students learn valuable skills they will most certainly use for the rest of their lives.
Leave a Comment
About the Contributor
Kelsey Nahodil, Co-Editor in Chief
Kelsey is a senior, yet she's also our member of greatest seniority, with this being her fourth year working for The Ridge Review; she's our Co-Editor in Chief. She enjoys coaching volleyball,...