A Brief Collection of Poetic Works (I)
Poetry in its raw form is a rarity for me, considering how many things I have to focus on (which includes both general English essay-writing and structured stories alike). Once I go into a poetic frenzy, however, I end up writing a lot in one session; here are some of the appropriate pieces that I've written over quarantine, all of them being influenced by the current state of affairs in the world and the music that I've been listening to. 
All the Love That We Lost
Miracles and exsanguination – loss of love and destination. Excavations, revelations – new temptations and old-school sanctions. 
New-flame endeavors and weather-spent leathers, Trail and tail and and everything in-between – moonlight and star-bright dreams of you and me. 
Holding hands in shifting sands and setting off for distant lands. Yet trip and fall and split your skull and fade into the dark – if only hand-in-hand we'd stretch the park, love not lost yet still in heart. 
Yet with love everlost, everlong to be gone – no softly-sweet, singer's song, we'd build our heart – never wrong. 
I think this poem, for how short that it is, means a lot to me. Structurally, it's a lot of simple rhyming that in my opinion ended up fitting well together. I suppose it's about some of my past relations and a vague detailing of how they affected me, but who knows. 
Death Toll
Frauds incite indignation – no King Killer on the way. 
Citing, social evaporation – Blue says more and more are dying every day. 
Red blames Blue, ain't nothin' true? There's nothing to help there, at least between me and you. 
Hold me closely and send away, all those demons that prey and prey – maybe that'll save our day. 
Death toll, they'd scold – youngest preachers growing bold. I guess at least it's safe to say – our hearts, they're not going cold, at least not this day. 
It's hard to make any immediate sense out of this one, but I can clarify that it's a quick reaction on my end to the current state of political and social affairs regarding both the U.S. as well as other countries. It's more of an overview of what's going on in my head as opposed to any attacking response, which is in of itself contrary to the situation referenced. 
Silhouette-a
Pure imagination and dark amalgamations dance across the floor – everything is biting them and asking for the Lord. The little bursts that band around the sky, the purple-yellow-golden ones that help us when we cry. 
But they're not shy, they're not mine, they're not searching for the time – they're sublime, good to try, up until the day we die. 
Catch me now, Silhouette-a, send me on my way – keep those ocean-eyes, scale my care to size. No disguise. 
Perhaps one of the shortest poems I've ever written; this one explores some of the Eldritch-themes I love to read into and write about in my work and past poetry. It's simple and mostly meaningless, born out of creativity and curiosity. 
There's not much more to say on that. It's plausible that none of us will ever reach the recognition for poetry garnered by the greatest writers of our age (and from the past), though who's to say it even matters? I encourage everyone to keep writing throughout Quarantine and far into the future, at least for everyone's own benefit.
Leave a Comment
About the Contributor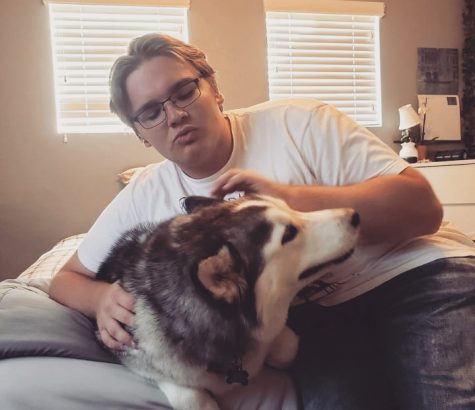 Aden Schulze-Miller, Editor in Chief
Aden Schulze-Miller is a senior and it's his third year working for The Ridge Review; he's our Editor in Chief. He enjoys watching movies, writing short stories, and is ready to help foster a...