Some Parental Opinions on Arizona's Educational Situation
"A deeper look into the thoughts of parents regarding school during the COVID-19 lockdown."
Transitioning to an online learning format for the 2020-2021 school year has generally been regarded as a rough process for old students, new students and school staff alike. Most of everybody has their own opinions that they've been developing, myself included, yet one of the areas of discussion that isn't discussed much on the student level is that of how our parents are actually receiving and interpreting the situation at hand. 
To simplify the matter, without falling into complete ignorance, most of the sets of parents I interviewed that were overtly right leaning politically tended to believe that it was most suitable to send the nation's youth back into schools, with those leaning heavily towards the political left signaling otherwise. Though, those in the political middle ground or non-aligned whatsoever reside in a grey area with multiple sets of opinions worth discussion that make up the majority of the talking points. 
Barry Pendegrass, father of one of my best friends and libertarian parent who has raised two children in the DVUSD school district, relayed his idea that students should "attend school in person." His reasoning for this was based on the dismissal of the COVID-19 virus, though not based on its deadliness as a quality, indeed morso based on its growth statistics throughout the country.  
"I think the biggest thing that people don't consider is actually, we're teaching a whole generation to live in fear [of the virus/similar crises]," Pendegrass noted regarding the state of the country and populace as a whole. 
Kristin Rowan, mother of Devyn Rowan, who is a member of the Ridge Review student newspaper, commented on the issue with a slightly separate take, saying that "There's too much unknown information at this point to really make a decision," Rowan said. 
"We're talking about the lives of children, some of whom live with grandparents and other people who are at high risk," she continued, cementing a point that's definitely circulating around the old age groups. 
It's definitely a hot, sore topic in politics; our parents' opinion also may end up reflecting the means of which we go to school if/when campus opens up, which then affects students directly for better or for worse as it's currently hard to say. Hopefully whatever ends up going through is beneficial to each and every student in one way or another based on their needs and individual situation. 
I personally agree that there's far too many unknowns and variables at the moment to make a decision, and while online schooling may not be preferable, it's definitely the most visibly safe and secure option. It's hard to say much more on the topic without breaking into other issues, so hopefully this can serve as a baseline reference for the opinions held by parents. 
(Featured photo of Karen Padelford teaching her class over Zoom).
Leave a Comment
About the Contributor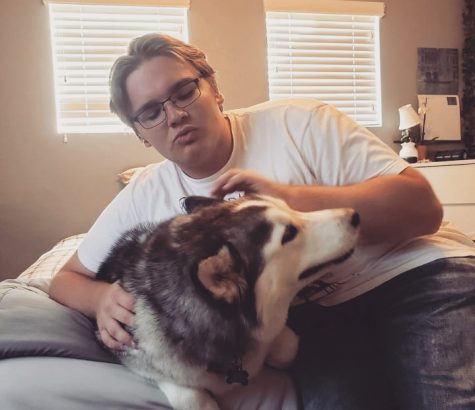 Aden Schulze-Miller, Editor in Chief
Aden Schulze-Miller is a senior and it's his third year working for The Ridge Review; he's our Editor in Chief. He enjoys watching movies, writing short stories, and is ready to help foster a...