Mountain Ridge Students Help Break Digital Divide
"Students create GoFundMe to help community school."
(August 15, 2020 – Glendale, AZ) – Three Mountain Ridge High School seniors created a fundraiser named "Break Digital Divide" in order to support Alhambra Elementary School District with remote learning. 
Neha Balamurugan, Anthony Ruan, and Lauren Aoyama worked together to launch a GoFundMe based project to collect money to support remote learning by providing effective and reliable WIFI for Alhambra families in need. 
In March of 2020, as the Covid-19 pandemic began to spread, Gov. Ducey announced Arizona schools would be closing in-person classes and switching to an online platform. In early April, the College Board announced online AP tests. While high school teachers and students, not only in Arizona, found adjusting to these accommodations difficult, Balamurugan identified a more exigent issue. 
"It was the most dreadful thing; My gut literally dropped, and I was terrified. My AP Chemistry test glitched while turning in. At that moment it really was a flash. I thought about the thousands of people that couldn't take tests like this that they have worked so hard for, or even attend school due to connectivity issues. And that is exactly what 'Digital Divide' is," Balamurugan explained. 
In reaching out to over fifteen Title 1 schools in Arizona, Alhambra's need was so significant that their response was immediate. 
"We got a response to our email in just 3 hours," revealed Balamurugan. 
In response to the immediate reply, the Digital Divide team prepped their fundraiser for launching. Their main focus and concern includes the expense of technology.
"I understand that technology is expensive, but I don't understand it being a barrier to someone's learning. This is how the "Break Digital Divide" project sparked. However, without Ruan, Aoyama, Ms. Hauer, Mr. Montoya and Mrs. Moore it would simply have been a spark," said Balamurugan .
The urgency of this cause, as Neha noted, is clearly significant. As a result, the team moved very quickly to establish connections in order to establish a hot spot of what was needed. In contacting Alhambra Elementary School District through a connection, they discovered the hot spot they were looking for. 
"My mother has a connection at Alhambra so we knew about the need to help these families," said Aoyama.
In Alhambra Elementary School District, where 92% of students qualify for free/reduced lunch and where 37.7% of residents fall below the poverty level, the impact of these funds would be hefty, as was decided by the students. Wasting no time after approval, the students launched the fundraiser on August 7th with a target goal of $20,000 by early October. They have already raised over $2,172 within the past three weeks.
"It is an ambitious goal for a good reason so I hope we can hit the goal. We are looking at some social events online to help. We have a $100 prize package for a random drawing when people donate so help to get more people contributing," said Ruan.   
"Any amount of your donation is invaluable to helping children receive quality schooling. We greatly appreciate your support," assures the team on their GoFundMe page.
Like Kathy Calvin, the CEO and President of the UN Foundation said: "Giving is not just about making a donation. It is about making a difference."
Become a part of the difference. 
Donate and learn more here: http://tinyurl.com/digital-divide
(All donations are 100% tax deductible).
Mountain Ridge is an award-winning school with an A rating from the Arizona Department of Education and an A+ School of Excellence awarded by the Arizona Educational Foundation.   Mountain Ridge High School prepares young adults to achieve personal success. Mountain Ridge graduates find success at four-year universities, community colleges, and in the workplace.  To learn more about this school and its programs, please call 623-376-3000.  The school website is https://www.dvusd.org/mrhs.  Mountain Ridge High School is part of the Deer Valley Unified School District.
###
Leave a Comment
About the Contributor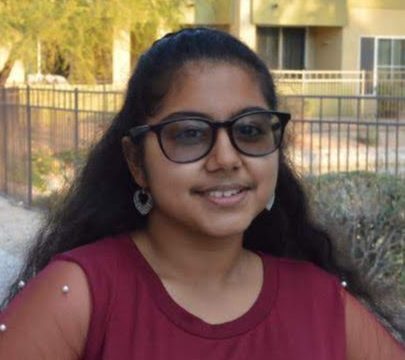 Pranavi Vuppala, Staff Writer
Pranavi is a senior and it's her second year working for The Ridge Review; she's an invested writer of ours that focuses on Ridge news. She's a dancer and enjoys not only writing but also encouraging...