Two Muslim Women Stabbed in France
Two hijab-wearing Muslim women were stabbed near the Eiffel Tower in Paris, France by two white Parisian women. 
The altercation took place on October 18, 2020. One of the Muslim women, Amel (19), was stabbed 3 times and has since been discharged from the hospital. Her companion, Kenza (40), received "six stab wounds and is being treated in hospital for a perforated lung," according to France 24. 
The two female attackers were reportedly drunk and did not have leashes on their pit bulls. This made the Muslim women uneasy, considering they had a few of their family nearby. The two Muslim women asked the Parisian women to control their dogs, but, evidently, this did not happen.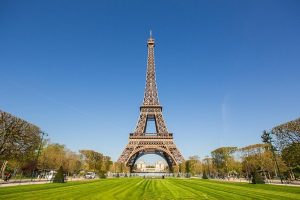 According to France 24, The Parisian women are said to have called the Muslim women slurs such as "dirty Arabs," and that they told the Muslim women "this [France] is not your home."
A trial was held after the two attackers were charged with "assault aggravated by the use of a weapon, drunkenness, racial insults and the fact that they acted together."
During the trial that was held for the attackers, "one of the women specifically took issue with the headscarves worn by several women in the Muslim family, referring to it as 'that thing you have on your head.'"
This is likely in response to the wave of islamophobia that has washed over France in response to the beheading of a French teacher by a Muslim man and a knife attack at Notre Dame Basilica that killed three people. 
TheNewArab reports that France has closed around 73 mosques and private Islamic schools since January. This number continues to rise due to recent events. 
Leave a Comment
About the Contributor
Caitlin Bailey, Journalist




Caitlin Bailey is a senior and it's her second year working for The Ridge Review; she's our go-to for global news. She enjoys writing and wants to help people become more informed about...