Remembering Craig J. Sheppard
After a long and courageous battle with kidney cancer, our beloved staff member Mr. Craig Joseph Sheppard passed away from complications on the 2nd of January, 2021.
Mr. Sheppard worked at Ridge for ten years and was beloved by staff and students alike for his presence and personality. He'll never be forgotten as he's survived by his family, current Ridge staff and the many students who appreciated his work. Of course, he's also survived by the Arizona Ash tree planted in his honor during a memorial on the 12th of February; a plaque with his name resides by it, balloons being released in his honor.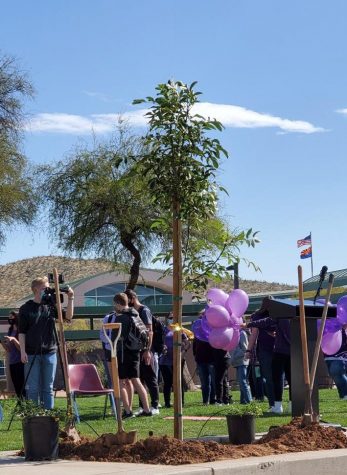 The following information is from Mr. Craig Sheppard's official Obituary:
"Craig's Story"
Craig was born and raised in a close-knit community in Houston, Texas with his siblings Cindy and Carl. In those early years he explored neighborhoods, had many adventures, and learned about life with a strong core group of friends that support each other to this day.
He attended Marion Christian High School on an athletic scholarship and played baseball and football. After graduating in 1978, he attended Sam Houston State and continued playing baseball. In 1980, Craig transferred to New Mexico State University on a baseball scholarship. He played for the Aggies through the 1983 baseball season. Craig was a skilled athlete, a strong leader, and was well-respected by his coaches and teammates. He was honored to serve as team captain in his final season for the Aggies.
Craig and Cathy were married in May 1983, forming a life-long partnership that provided them each with strength, support, and security through all the seasons of their journey. Mindy officially joined their family in 1985, a beautiful and loving 3-year old who graced Craig with the title of Daddy and taught him the joy of unconditional love. In 1989, Melissa was born, and Craig was smitten again by a beautiful and spirited daughter. Carson was born in 1995 and Craig learned the joy of raising an active and accomplished son.
Craig loved being with his kids and he chose a career path that honored that joy. While working with the Phoenix Suns, Arizona Diamondbacks, City of Phoenix Sports and Recreation Department, and Mountain Ridge High School, Craig arranged his work schedule so that he could spend afternoons and evenings ensuring Mindy, Melissa, and Carson were supervised, coached, active, and very well-loved.
Craig dedicated his final ten years of employment to the students at Mountain Ridge High School, encouraging hundreds of high-schoolers to dream big and work hard to accomplish those dreams. His booming laugh and stories will be missed there along with the straight-talk he dispensed so freely.
Outside of work, Craig also focused a lot of time and energy on other children, teens, and young adults. He was always willing to chauffeur, chaperone, or mentor kids from the neighborhood, church, or scouts and he loved coaching his kids and others in various sports. One thing all "his" kids knew was that he would always hold them to a high standard, trying to help them be the best they could be. Many young adults, teens, and children claim him as family they chose.
Craig adored his granddaughter Amariah and spent endless hours with her as she grew from an infant to a teenager. Craig also cherished each of his rough-and-tumble grandsons, Ethan, Elijah, and Dillon and spent time playing with them whenever possible.
Craig actively cared for his core group of people, calling or talking with many of them daily. He kept up with their lives, accomplishments, thoughts, and needs. Although he didn't often say the words, he loved them strongly and deeply and really cared about their day-to-day lives and they knew it.
Craig was a man who loved to stay busy and work hard for people in the background, without making a fuss about it. Conversely, he also liked to grab the limelight at times, and frequently had everyone around him laughing at his over-the-top humor or endless stories. He didn't know a stranger and would talk the ear off the next person in a line or the guy in the seat next to him at a game or on a plane. He loved God, reading the Bible, and worshipping with his church family. He protected Cathy and the rest of the family with the ferocity of a lion and enough love to cover any tough spots in the road. He will be greatly missed by many.
Some of you may want to offer a tangible remembrance on Craig's behalf. In lieu of flowers or other remembrances, consider honoring his love of sports and kids with a donation to one of the following nonprofit organizations or writing up your favorite "Craig story" and sending it to Cathy so it can be included in the family's memory album.
• Every Kid Sports (everykidsports.org), an organization working to cover youth sports registration fees for 100,000 low-income kids.
• Turn Two for Youth (abca.org), an official charity of the American Baseball Coaches Association dedicated to providing new and used baseball equipment to underprivileged kids.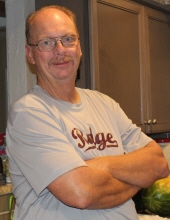 View Comments (1)
About the Contributor
All of Us!, The Ridge Review Staff
Here's everything we did as a team :)

Our paper's contact info is available in our "About Us!" section for your leisure. With a continuously developing and shifting staff-body, individual...