Asian Racism and Recent Attacks
"Ching chong"
"Can you even see with those eyes?"
"Don't eat my dog-"
"Your food looks and smells disgusting- who eats that stuff?"
"You're the reason for this virus."
Look at these words. These are real examples of just some of the hurtful racism we Asian-Americans face. These are just a small handful of examples I've personally faced just from being Asian. Now imagine people saying these words to you but with no one defending you, no one branding this utter harassment as wrongful. That's exactly what the Asian community in America has to face on a daily basis. Asian racism isn't a new thing, it's been around for decades, but why hasn't anyone talked about it? Because it's normalized. Asian racism is so normalized that rude and offensive comments constantly thrown at our Asian American citizens are swept under the rug and brushed off as "jokes". Aren't jokes supposed to be funny? The country and even the world have been so complacent with this behavior for so long that physical and fatal violence against Asian American and Pacific Islander citizens have horrifyingly spiked up last year as well as this year due to the coronavirus pandemic and its association with China. 
Over the past 10 months to a year since the news of the coronavirus outbreak broke out, Asian-American hate crimes have sky-rocketed, with more than 2500 people falling victim to assault and harassment; and those are just the ones reported. 
Around a month ago, 84-year-old Thai man Vicha Ratanapakdee was violently pushed to the ground while walking the streets of San Francisco, eventually dying two days later, while a 64-year old Vietnamese grandmother suffered the same fate a few miles away in San Francisco where she was robbed and assaulted. A 61-year old Filipino man was slashed across the face with a box cutter on a New York subway and a 91-year old Asian man was seen being thrown onto the ground in Oakland Chinatown.
Juanito Falcon, a 74 year old Filipino man was punched in the face for no known reason in Phoenix Arizona on February 16, 2021. He suffered a skull fracture and died two days later from his injuries at the hospital. 
Falcon's daughter Malou Acunin told 12 News regarding her father's unjust death, "Nobody should experience what happened to my father. I want this incident to be a cause of awareness to everybody."
Just recently on March 16, 2021, white domestic terrorist Robert Aaron Long brutally killed 8 people in Atlanta, Georgia, 6 of the victims being Asian women. Daoyou Feng (44), Delaina Ashley Yaun Gonzalez (33), Suncha Kim (69), Hyun Jung Grant (51), Soon C. Park (74), Xiaojie Tan (49), Paul Andre Michels (54), and Yong A. Yue (63), lost their lives to an armed 21 year old that day. They won't ever be able to see their families again yet Long was sent to rehabilitation for an inappropriate addiction involving Asian women to help him save his future. Atlanta police stated that the murderer just "had a bad day" , which not only invalidates the several lives lost, but also completely disregards the racism tied into this hate crime. 
Reports against Asian hate crimes are significantly lower than those involving other People of Color (POC) because it is apparently "more difficult" to identify anti-Asian incentives from other anti-incentives. 
"There's a recognizable prototype with anti-Black or anti-Semitic or anti-gay hate crime," said Lu-in Wang, a law professor at the University of Pittsburgh. "They're often more clear-cut."
Last March 2020 when the pandemic started getting really serious, 4 teenage girls assaulted a 52-year-old Asian woman on a bus in the Bronx. According to prosecutors, they accused her of spreading the coronavirus and one of the girls beat her with an umbrella. The teenagers ended up being sent to anti-racism classes rather than jail with the permission of the victim, and they were released about 2 months later, being vouched that they had "learned their lesson" and would never commit another hate crime again.
Although several cases of violence involving Asian victims weren't proven to be racially motivated, other incidents that clearly were still have not led to any arrests. A man directly called an Asian-American mother the "Chinese Virus" and spat on her child in Queens last week, and police are still on the hunt for the offender.
In Lower Manhattan last Friday, a 68-year-old Sri Lankan man was assaulted while riding the subway by another passenger who yelled a racial slur at him and punched him in the head. The man suffered bloody consequences and is currently in critical condition.
A 66-year-old Asian man was punched in the face in the Lower East Side neighborhood in New York last Saturday morning, then the next day on Sunday three more attacks occurred around the same area. Police stated that an Asian woman was thrown to the ground in Midtown while another victim was hit in the face with a metal pipe. 
Katie Hou, a 37 year old Chinese-American, was punched in the face twice after attending a support event with her daughter in Union Square in honor of the victims targeted from Anti-Asian-American hate crimes. She shared in an interview that she was recovering and that she hoped her situation and encounter would not scare other Asian-American people and victims from speaking out about their own experiences. 
"People need to be vigilant about their safety, but at the same time, we need to do something to stop this from happening again," Hou said. 
These are only a few of the many examples of violent hate crimes our Asian-American citizens are facing and it's disheartening how long it took for the world to actually recognize that racism towards Asians is a real and serious issue, and even now a concerning amount of people are still invalidating the experiences of Asian-American voices.
Many people are staying silent because they are unaffected by what is happening in the world right now, which only proves and exercises the privilege they have, but you can help by not turning a blind eye.
Educate yourself, look into the stories and experiences of racism victims and amplify their voices instead of challenging the validity of their stories.
Actively call out microaggressions such as back-handed compliments like complimenting an Asian/Asian-American's "American accent" and ignorant questions like, "Where are you from? No, where are you really from?".
Stop feeding stereotypes, even supposedly "positive" ones like how every Asian person should be exceptionally smart. These are still harmful to the AAPI community.
Stop suppressing Asian voices when they call out a non-Asian for taking an aspect of their culture or for turning one of their characteristics into a trend. For example, the fox eye trend glorifies upturned slender eyes when it was that very eye shape that got many Asian people bullied at one point or another.
Personally, as a Chinese-Filipino-American citizen who was born and raised in America, I've had my share of racism and petty comments. I've been accused of starting the coronavirus and was told by my own friends that it was "my people" who were to blame for this pandemic. They brushed it off as a joke and told me to not be so serious about it. 
My friend was called "oriental" and was told to take it as a compliment because "that was what she was". 
My family friend who is like a sister to me was bullied for bringing their cultural food to lunch at school and had a random woman at the grocery store pull her eyes back to imitate their eye shape. 
My best friend's family was harassed by their neighbors and were told to "go back to the Philippines" even when they were just minding their own business.
My third grade teacher taught our class false information during our China unit like how China "ate preserved human fetuses" as a common meal and continuously looked at me, expecting some sort of verification from me, an 8 year old Asian-American girl just trying to get an education.
My parents, and the parents of almost all my Asian friends, have told us to be alert when we go out because we are being targeted. No parent should have to tell their children to be wary of those around them simply because of their race/ethnicity. If that's not a sign it's time for a change, I don't know what is.
Leave a Comment
About the Contributor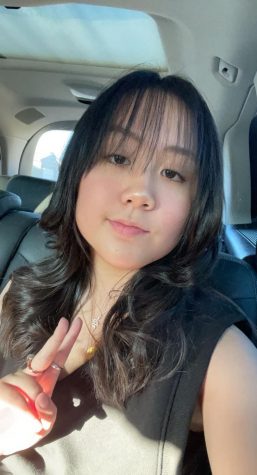 Kimi Matibag, Journalist
Kimi Matibag is a junior and in her second year writing for The Ridge Review. She enjoys music, spending time with friends, and creating and editing projects. She hopes to start and run a new...