Merit Scholarship Winner: Cheng (Grace) Xu
MRHS has a lot of talent to boast, including the winner of the National Merit Scholarship, Cheng (Grace) Xu. 
To be a semifinalist for the scholarship, each candidate was chosen based on their PSAT score. If they were chosen as a finalist, they were tasked with writing an essay about their personal growth. The only requirement was to be a junior in high school. 
Upon winning the scholarship, Xu received $2500 that she can put toward college. She is thankful for the money, now more than ever, due to the increasing prices for college that have soared in recent years. 
"I was pretty excited since college is going to be really expensive and $2500 is a pretty decent amount of money,"she said
As of now, Xu is going to MIT. With a school as prestigious as that, she has to have a lot on her high school resume. 
"I'm in math club, earth club, political science club, mentor club, and NHS. Outside of school I play chess competitively," Xu said. 
With a lineup such as that, it's a miracle that Xu has time to do anything else in addition to her extracurriculars and academic studies. Nevertheless, Xu still manages to find time for herself.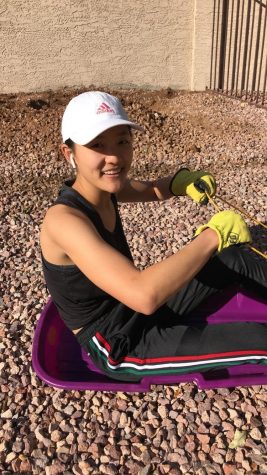 "Right now, since I'm alone all the time, I've gotten super into crossword puzzles and solitaire. I also like the gym, cooking, Netflix, and jigsaw puzzles," Xu said. 
Xu plans to study either computer or environmental science, though she hasn't decided yet. For her, it isn't so much about what she wants to major in, but rather how much she likes a particular teacher. 
"I don't really have a favorite subject," admitted Xu. "I typically like my classes because of the teacher and not the content."
Though Xu isn't completely settled on her future, it's clear to see that she'll be brilliant at whatever she chooses. MRHS is lucky to have her, and we're looking forward to seeing how her future plays out. 
Leave a Comment
About the Contributor
Caitlin Bailey, Journalist




Caitlin Bailey is a senior and it's her second year working for The Ridge Review; she's our go-to for global news. She enjoys writing and wants to help people become more informed about...