If you haven't already heard, this year's fall musical is none other than The Wizard of Oz! This fall we can expect to see Ridge's production of 'The Hope and Heartache Diner', directed by Mrs. Gordon, and 'The Wizard of Oz', directed by Mrs. Nardone. With these productions right around the corner, auditionswere just a few weeks ago! Believe it or not, Mountain Ridge seems to have broken the school's record for people to audition. Normally we can expect to see about 60 to 70 people auditioning, but this year we've seen over 116 people looking to audition. I had the opportunity to interview a few people regarding the audition process, such as, freshmen, Luke Seguin, Tessa Caplin, and senior, Nick Langdon, and director of Mountain Ridge's production of The Wizard of Oz herself: Mrs. Nardone
Luke Sequin-
"What are you most excited about, being in crew?"
– "I am most excited to be able to help the production of the play from behind the scenes. so that
I can get involved without having to perform in front of a ton of people"
"What crew were you shooting for in the first place?"
"I am going to join lights crew because it is one of the hardest working crews, and I want to
challenge myself to work harder."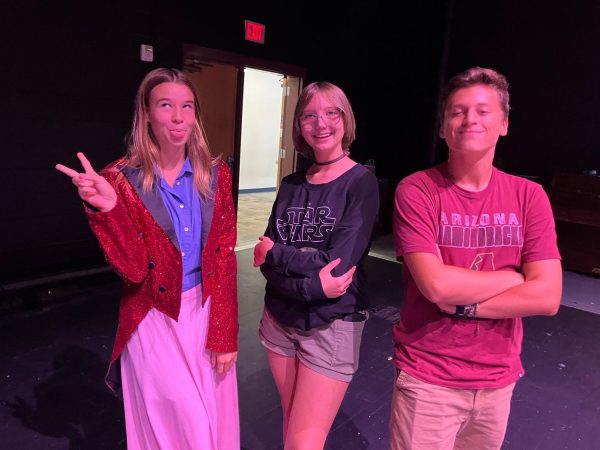 Nick Langdon
"How long have you been into theater?"
– "I have been in theater since my freshman year here, I first started at a TDS meeting in the year prior, so I started kind of over the summer"
"Why should other people audition for productions, or join theater in general?"
– "Because, Theater here at Mountain Ridge is very communal, and everyone here is a family. You will get integrated very easily and everyone will love you and
respect you, and you can just build such strong relationships and bonds that you might not find anywhere else."
"From your experience, would you say that the audition process is difficult?"
– "
It is intimidating at first, I will say, but it is
not
difficult. It may seem really big and scary but
when you're up there it's just like 'Oh, everything's already memorized' So you can do everything easily and it just.. Flows right out."
"What are you most looking forward to in theater this year?"
– "
The thing I'm looking forward to most of all this year is seeing the underclassmen thrive, as a
senior, you know, this is my last year here, and I want to be able to see how the department will
be at the end, when I'm gone, and in the years coming up. So it's just kind of like, almost leaving
a legacy, in a way.. And just, making sure everything will be okay."
"What is your favorite thing about being in theater?"
– "
My favorite thing about being in theater is seeing the applause, and smiles on peoples faces at
the end of a production. It is the most rewarding thing because it shows that your work has paid
off. Everything comes and works out in the end. You're not like, working to not get anything in
return, and seeing the smiles, and the underclassmen. Seeing them happy, because this might
be their first production, and it's just so rewarding and gratifying to me to see them happy."
"Last question, are you excited to be in this year's production of The Wizard Of Oz?"
– "
Oh, absolutely! I can't wait to have Ellie Kunnari as our Dorothy, and be her uncle, and it's just
gonna be so amazing because there are so many new faces and new people getting, like, the
bigger roles, and just being able to express themselves and show what they're able to do! It's
going to be amazing!!"
Furthermore, we heard from
Tessa Caplan.
"Are you excited to be in the production of the wizard of Oz?"
-"
Yes! I've always loved theater and it's great to work with other people who are just as
passionate about this!!"
"When did you get into theater?"
– "
I first got into theater when I was six years old, I've been in six shows! This is my seventh!"
"Why should other people join theater?"
– "Other people should join theater to create bonds that will last a lifetime and memories that will
never be forgotten! It's the best experience and so so so fun!!"
"Lastly, what advice would you give to anyone wanting to audition for any productions
this year?"
– "
To anyone who wants to audition;
Have fun!!
It's very easy to tell when you are enjoying
what you're doing. Directors want to see your personality and that you will be happy with
whatever you can get involved in!"
Last, but definitely not least, the director of The Wizard Of Oz, herself,
Mrs. Nardone.
"
What is your favorite thing about teaching Intermediate Theater?"
– "Intermediate Theater is the level where I see students make huge leaps and bounds in
their performance skills and confidence on stage. These students are creative,
energetic, and highly motivated to produce amazing projects and productions."
"What are you most excited about for the fall musical and play?"
-"I am genuinely excited that the talented Merry Gordon has agreed to direct a full
length play, The Hope and Heartache Diner. It's a brilliant script, and by offering both
that and The Wizard of Oz, we have been able to really extend opportunities for our
growing department."
"Was the Wizard of Oz your first choice for the fall musical?"
-"Ridge produced The Wizard of Oz last about 23 years ago. It is a very challenging
production, especially the technical components, and we are excited to share it with a
group of students who are ready and willing to take on the challenge."
"What would you say to convince more people to join theater?"
-"Theater offers something for everyone, from on stage to back stage opportunities. We
have worked very diligently to create a family where everyone is welcome."
In theater, I promise you, there is something for everyone! Whether that is, standing in front of the spotlight and performing, or working behind the scenes, on lighting, or sets, or anything really! So, if you have an interest in any of those things, I greatly recommend theater for you.