A Midsummer Night's Dream: A Tale of Eternal Love and Laughter
"The course of true love never did run smooth."
The Mountain Ridge Theatre department debuted their production of A Midsummer Night's Dream written by Shakespeare, on Wednesday November 6th. Laura Nardone astoundingly directs what is regarded as Shakespeare's most malleable play, emphasizing the lyrical script and musical aspects of each mortal and immortal character. Even with four shows and a matinee, it would be impossible to get enough of the talent that lies in this department.
Every part of the play was outstanding, and the stage was no exception. The curtains are drawn as the theatre becomes the forest, and the audience is immediately transported to a vivid dream where flowers of every color dance with your eyes from corner to corner. The fairy ensemble adds their own touch with synchronized song and dance. Their light-hearted giggles, dazzling makeup, and sparkling wings brought a smile to even the droopiest frown.
Senior Areti Karendreas, who played young Sala in Letters to Sala last fall, exemplifies the plays musicality through the character of Helena— a girl with a lust for love. Karendreas' soft and silvery voice captures the audience in their own desires as she sings to Hermia (Tiffany Fraser) about her longing for Demetrius (Roger Hines).
Tyler Thomas brilliantly played the character Puck, a boy prone to misadventure and more goblin-like than the other fairies in the play. Thomas's body language was seemingly perfect for this part and it added a needed element of mischief to Puck's public persona.
Roger Hines played an underwhelming yet admirable Demitrius Fuller. It was a valid effort to portray such a fickle and underdeveloped character. Hines, Tiffany Fraser, and Corbin Kerr portrayed the love triangle between Demitrius, Hermia, and Lysander. It was both funny, and just the right amount of dramatic.
Choreographers Callie Crandall, Adriana Davila, Sophia Frank, Tiffany Fraser, Bella Garcia, and Alexa Pedersen did a phenomenal job when it came to Titania and Oberon's (Nerman Javor) waltz scene during the final act. Garcia and Javor's chemistry was bright, passionate, and convincing to say the least.
The most comedic part of the play was the subplot about a group of bad actors: Nick Bottom (Jacob Lehman), Peter Quince (Alan Claibourne), Francis Flute (Jonathan Wade), Starveling (Pedersen), Tom Snout (Sophia Frank) and Snug (Sebastian Bonilla). You certainly haven't lived until you've seen Wade running around an auditorium in a crimson dress, screaming at the top of his lungs. When at the wedding of Hippolyta (Caitlyn Vaisman) and Theseus (Zachary Pytel), the rustics perform a melodramatic imitation of the tragic love story "Pyramus and Thisbe". Wade put on a blond wig and awful red lipstick to play Thisbe and had the audience bursting with laughter.
The show closes with Puck's final soliloquy as he breaks the fourth wall for a whimsical heart-to-heart with the audience…
If we shadows have offended,
Think but this, and all is mended,
That you have but slumber'd here
While these visions did appear…
Give me your hands, if we be friends,
And Robin shall restore amends.
The speech touches on the major theme of dreams vs. reality, and it was a perfect end to the play.
If you didn't get a chance to see A Midsummer Night's Dream, make sure to catch the spring musical next semester! The experience will be worth it.
Leave a Comment
About the Contributor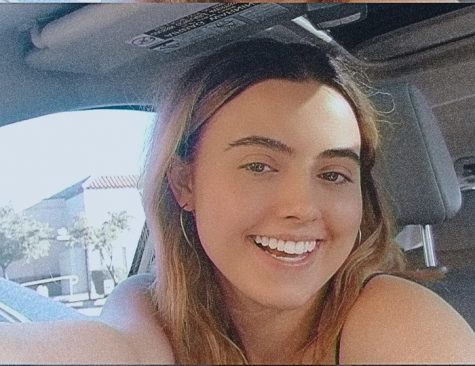 Devyn Marie, Lead Editor
Devyn Marie Rowan is a senior in her second year working for The Ridge Review; she's our Lead Editor. She has a passion for writing in order to connect with those around her. She wants to use...