Prom Guide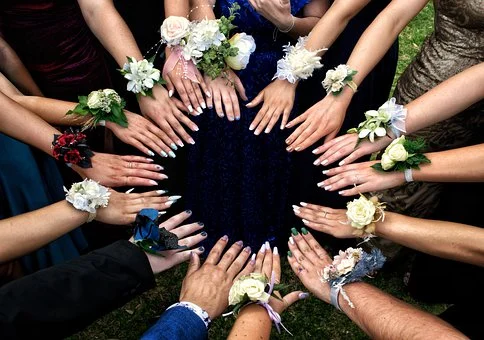 It's Prom Week! The dance that upperclassmen have fantasized about since their elementary school days is finally being held on April 29th, at the Chateau Luxe from 7pm-11pm. With Covid expelling last year's juniors from the opportunity to enjoy this magical night, and current juniors finally being eligible to attend, every student there will be at their first Ridge Prom. With this new environment, the following is a guide on how to have one of the best nights of the school year and make memories that you will hold onto for a lifetime.
Get ready with friends:

One of the best ways to kick off the night is to gather up your friend group, pick a house, and get prettied up for Prom together. This can include doing each other's hair, painting nails, doing makeup for the girls. Or for the boys, tying ties, fixing hairstyles, and freshening up with friends can make the evening's fun begin extra early. There are tons of ways to get ready, but doing it with your close circle will let memories be made and a divine event to begin in community.
Take Pictures:

After getting ready with your pals, it is time to document the best dressed with pictures. This can include a nice camera your mom might have or even a phone camera, so you can have the photos later on. To capture the effort you put in getting ready is to capture the evening for memories to reflect on way down the road. This also ensures that you can get a memory of you looking your best before the subsequent drain the evening will toll later.
Attend Dinner:

To prepare for an epic night of dancing, a great way to prepare is to go to dinner. This way you will have all the energy to dance around and make it to the end of the dance. Gather some of your friends and select one of your favorite restaurants for the next event of your evening. Being with friends, while sharing a delicious meal, should ensure that your taste buds are dancing with you too. From fancy to fast food, the options you have for attending dinner are limitless and all will provide amazing food options that should let you be ready to dance afterward.
Get There Early:

If you have gone to a Homecoming, you know how insane the line to get inside the dance has been. Unlike Homecoming, Prom is exclusively for Juniors and Seniors. This should allow for a shorter line to get inside, but ultimately nobody wants to spend more time outside the dance than inside. This tip is that you might want to consider leaving your dinner in a timely manner, in order for you to beat the rush. Getting more time to dance and enjoy the most amazing dance will be worth it.
Dance!:

Now that you have completed all of the amazing prerequisite ideas to perfect this evening, the dancing can begin as the best part of the evening. Whip out your best dance moves and allow this dance to be the best one yet. From break dancing to the robot, anybody can dance. Even if its only the Cha Cha Slide, make sure you own the dancefloor at some point in the evening, so you make sure to have no regrets on how you spend this magical night.
Prom is here and making it the best experience of the year if within your grasp with these ideas! No matter how you spend your evening, make sure to spend quality time with your friends and let this night be one to remember. Transport to Paris under the Moonlight, while dancing the night away!