Arizona Choral Educators Fall Festival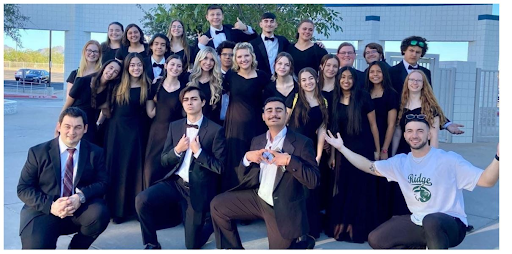 Congratulations to the Mountain Ridge Honor Choir for receiving a superior at the Arizona Choral Educators Fall Festival!
Performing the traditional spiritual "Battle of Jericho" arranged by Mark Hayes and "Songs in the Night" by Victor C. Johnson, our honor choir was able to impress the educator judges. 
Working on these two songs since the beginning of the year, starting in August, the honor choir was finally able to show off what they had been working on for months in advance. 
Elisabeth Green, a fellow choir student, says that, "The main preparation we needed for the festival was a change in perspective." Being in a choir, there are so many different details and focuses that must be considered while singing the music. Elisabeth continues on, "singing is so much more than words or attitude, but also dynamics. We needed to know when to be quiet or loud, when to grow or shrink, and we needed to see each other as parts of a whole that was capable of greatness."
The choir was given the opportunity to warm up and practice for about 15 minutes before entering the stage for performance. There, they worked on any minor details to sharpen up their pieces in ways that the judges might notice. 
After performing, taking in account all of the little things that were rehearsed, the Ridge choir was approached by two of the judges who worked with the choir to help expand their skills moreso. 
"I thought the judges were really engaging," says another choir student, Sereena Bajpai. "They provided us excellent feedback without causing us to doubt our ability." 
The judges were able to both complement and provide the musical group with constructive criticism. They highlighted the importance of being able to blend with not only the people directly around you, but the entirety of the choir. They mixed the chorus from their original spots as a sort of exercise to be able to hear the different voices that the choir is made of. 
Our school's choir has plans to take into account all of what the judges noted and to take it into their future choral pieces. 
The Fall Festival was a fun way for growth to be shown and for feedback to be given to the Ridge Honor Choir. Once again, congratulations on receiving the highest rating possible!