Coraline is Still Just the Scariest Kids Movie Ever
So it's that time of the year again, the Halloween season! There have been so many awful movies that have come out in the past decade; they always seem to just disappoint the viewer in annoying (if albeit occasionally creative) ways. 
But, there have also been a good selection of films that have been both innovative and entertaining. Ari Aster's 2018 film Hereditary and Jordan Peele's 2019 flick Us were both met with critical acclaim for their unique qualities and captivating plots. Yet, it seems as though these are just some outliers in the cesspool of cinematic garbage that is the modern horror genre. That's not to say that, should we go back only a decade or so, there aren't still some great options to choose from. 
Hereditary, in particular, is often regarded as one of the scariest horror films of all time, if not ever, yet the acclaimed works of Aster and Peele are directed towards adults and don't appeal as much to a younger audience.
Some of the greatest horror/thriller works in decades past did appeal to children, though, with not all of them being comprised of ridiculous gags and dumb humor. The best example of this is 2009's Coraline, which I believe to be the scariest children's film ever created (if you'd dare call it a children's film, e.g. Return to Oz (1985) is scarier but it's really not for kids). 
I think we're all pretty familiar with Coraline; I mean it was met with a lot of critical acclaim and was made by the Stop-Motion maestros at Laika's studio (who're famous for Coraline, but also Corpse Bride (2005) and Kubo and the Two Strings (2016)). I think we seem to forget how unbelievably terrifying it is, especially now but let alone when our age range was younger. 
The plot itself doesn't seem too bad on paper: the film is a stop motion production, semi-directed towards children, that follows a young girl on a quest to save her family and destroy an evil entity. But man, the combination of morbid and unnatural imagery, horrifying music and just downright scary situations really set this one aside from the rest. 
So, when it comes to the film's imagery in general, which is a very important part of any kids film, Coraline is just entirely messed up.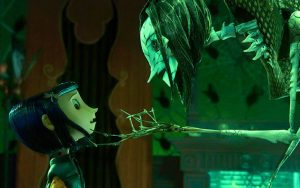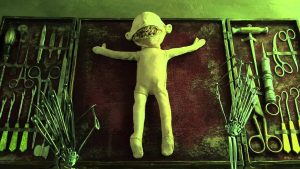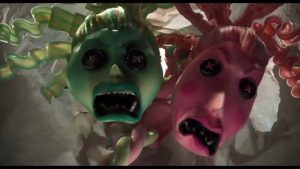 I mean, look at these stills from the movie! They're awful! 
I might flaunt otherwise nowadays, but I wasn't a tough cookie when I was really young, and I'm quick to make it quite clear that this movie probably made me soil my trousers once or twice as a young Michigander. All things considered, I'm still on the verge of doing so nowadays, I mean the movie is so grim and dreary. 
Here's one of the film's songs for reference. It's not inherently scary, but the gibberish whispers and child-like tone give it a really creepy vibe. Since it's hard to explain music, I'll leave it to the individual to sort through, but the whole soundtrack is both memorable and impactful. I'd even argue that it beats out most adult horror films in terms of the atmosphere it delivers. 
The plot too, *shivers*; the film doesn't sound too bad on paper as I'd noted, but when put into context it's really more dreadful than most slasher flicks. Coraline (voiced by Dakota Fanning) herself is nearly killed multiple times throughout the movie while she tries to save her parents who are locked away in an icy Hell. She's nearly cut in half, dragged to the abyss, and almost forced to have her soul eaten by an ancient witch (I'm not even kidding). There's just a lot of supernatural, scary bad-juju kind of stuff going on throughout the movie and, without spoiling the plot, let's just summarize by saying that it's a little rough for children. 
Anyways, this film is a great choice for both Halloween and general viewing, especially if you want to disturb a friend for the night. Don't use it to scare a younger sibling, though, because you'll probably be the one forced to clean the sheets that night.
I'd argue that it's the scariest kids movie, but if you have any other selections you believe would take that spot, you should definitely let us know. Beyond that, have a happy Halloween and remember to stay safe! 
Note: Coraline is a great film that will probably stay relevant for a long while, but the movie itself is based on a book of the same name by author Neil Gaiman. The book was written back in 2002 and is all but forgotten by the general public, yet it has pretty favorable reviews; I'm not familiar with it, but you should totally give it a try if you enjoy reading or want a spooky Halloween-candleside-book-reading kind of night.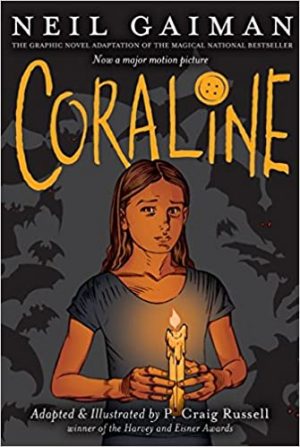 Leave a Comment
About the Contributor
Aden Schulze-Miller, Editor in Chief
Aden Schulze-Miller is a senior and it's his third year working for The Ridge Review; he's our Editor in Chief. He enjoys watching movies, writing short stories, and is ready to help foster a...